Fill your restaurant thanks to your Christmas menu
11.11.2021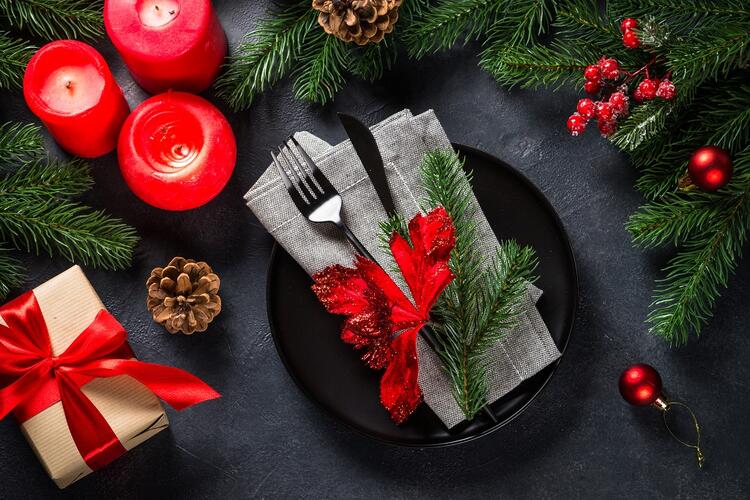 🎄 Christmas is just around the corner and your future customers are already drooling in front of deli counters and Christmas market stalls. Why not  create a stunning Christmas menu to take full advantage of this period and boost your reservations?
TheFork teams have gathered for you some inspirational and practical tips on TheFork Manager to get ready for this celebration season
This year, the trend in Christmas decorations is for the natural look, if you're looking for some advice for your restaurant, click here  for an entire list of inspiring ideas.
Once you've chosen your Christmas tree and added the finishing touches to the cozy ambiance for your customers, it's time to take their taste buds on a trip with an amazing Christmas menu that will make you stand out from the competition.
How to create a Christmas menu that will boost your bookings?
TheFork has been thinking about this question and is sharing the seven golden rules for a successful Christmas menu that will help you to fill your restaurant.
Discover the recipe for an on-trend Christmas dinner:
Prepare your seasonal menu using local products to please your customers who like to eat local, and reduce your delivery costs. Concentrate on seasonal vegetables that are ideal for deliciously creamy festive soups (celeriac, mushrooms, squash, pumpkin, etc.) and December fruits such as pineapple, chestnuts, and clementines for a refreshing variation on the Yule log. As for the meat, give your chef free rein around quail, capon, rabbit or duck even. For the fish course, think of monkfish, cod, sea bream or even smoked haddock to add extra interest to your Christmas menu.
Be inspired by current food trends but also by family recipes. Be sure to have two alternative main courses, a gluten-free recipe and a vegetarian option to please all your customers. Nevertheless, don't overlook the traditional recipes that make the Christmas meal so special and are enjoyed year after year with the same pleasure. In France, variations on a theme of foie gras and a Yule log are always a big success, in Italy, faithful to the tradition of the Vigilia, a meal offering a selection of seafood will be a big hit, and in the Netherlands, speculaas with cinnamon will always be popular sweet treats at Christmas.…
Offer an all-inclusive package (e.g. a five-course menu: appetizer, first course, main dish, cheese, dessert)  with a wine-food pairing suggestion to enhance the meal and facilitate extra sales. Think about offering a Christmas brunch in your restaurant which would be very popular with families and couples, particularly if they're passing through your neighborhood on their vacation. All-inclusive packages are always a success for group bookings!
Be sure to offer a business 'Christmas lunch' menu for the companies in your neighborhood. Many of them will be looking for good restaurants to reward their staff during the Christmas holiday period. During the month of December, remember to offer a festive fixed-price menu particularly suited to groups, with a good quality ingredients/price ratio, that can be reserved for lunch and/or dinner depending on your clientele, maybe with a prepayment option or specific conditions to avoid last-minute cancellations. Why not thinking about a takeaway option for this?
Start promoting your menu now to maximize your chances of filling your restaurant on Christmas Day.  Make sure you cover all communications channels to promote the creativity of your chef and give visibility to your Christmas menu. First thing on your list, log on to your TheFork Manager account and:
You plan to be open for the Christmas period? Begin by updating your calendar to let your customer know they will be able to book a table at your restaurant to celebrate.
 When ready, upload your Christmas Menu.
Start taking advantage of the premium features>> available on TheFork Manager like the credit card imprint and reconfirmation emails & SMS to avoid no-show.
Also publish your menu on your website in a form that will attract visitors to the site .
Promote it on social media. We're sure that your menu will make your customers' mouths water, so why not make the most of it by offering a preview on social media? Instagram is ideal for promoting photos and video clips of your Christmas dishes: presentation of gourmet products by the chef or the producer, recipe tips, finishing touches, all opportunities are good for promoting your Christmas menu. Go ahead, especially as your restaurant can now be booked directly from Instagram & Facebook.
Organize a tasting session with influencers. Word of mouth now spreads widely via influencers, so it would be a pity not to take advantage of such amabassadors. Has your chef prepared a stunning Yule log? Organize a preview tasting session. Are you offering Christmas Brunch? Offer a couple of influencers the exclusive chance to come and try it out a few weeks before Christmas. Their posts will make your customers' mouths water and make them want to book a table. If you've never worked with an influencer before, don't worry, we've got some advice for you.
You're now holding all the cards to fill your restaurant with an amazing Christmas menu. Are you ready for a full restaurant on Christmas Day?
Try out our PRO version now
software is free for the first 6 months