Attract more clients during Christmas with a natural decoration
11.16.2018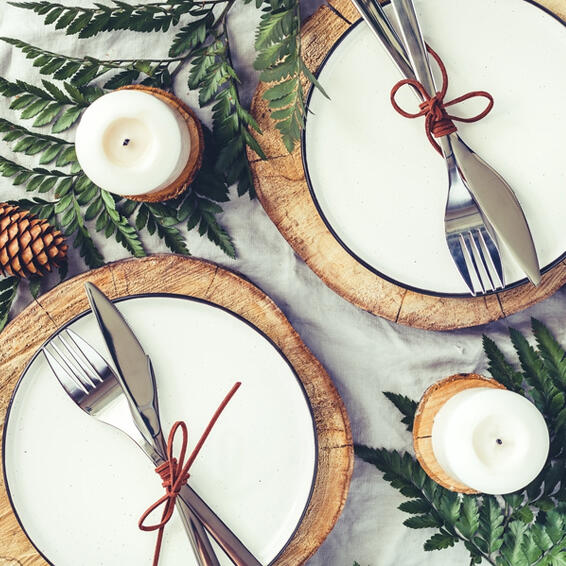 One of the most important seasons for attracting clients in the restaurant industry has begun: the holiday season. An occasion for filling our tables and increasing our sales to a greater extent than in any other period. It is also a time for decorating your restaurant in a special manner for the marketing campaigns that we will carry out. So...what could we do to decorate our restaurant in a way that makes it the envy of our competition this year and leaves our clients astonished?
For the end of 2018, we suggest creating a decoration concept that is more in line with the needs and habits of current consumption. In other words...
Integrate the natural tendency to decorate the restaurant for Christmas
The general idea is to take advantage of the Christmas season and furthermore integrate what is currently the most established trend, namely maintaining a lifestyle and life philosophy that is more natural, healthy and sustainable.
Advantages:

The restaurant becomes more attractive for clients. It goes from merely being a place to eat to a culinary space that looks after clients' health and is also environmentally responsible. A restaurant that provides more reasons to patronize it in addition to its Christmas menu thanks to its richer storytelling with more content.

Natural decoration provides greater comfort. Using natural and organic materials to decorate the restaurant this time of the year provides a greater sense of comfort for the customer's senses, inviting them to stay longer at their tables and have a second helping. They serve to "humanize" the atmosphere, making it more welcoming and homely.
Do you think it would be interesting to apply it in your restaurant? Keep reading and discover 5 ideas to do so:
A natural pine tree as a Christmas tree? No. It's better to use a recycled tree
One of the most iconic elements of Christmas is the decorated tree. The truth is that bringing a pine tree to the restaurant, as natural as it may be, would not be a very sustainable move and clients know it. The best solution is to create our own tree with recycled materials that are also organic and in line with these times and the restaurant's style.
You can use the following: wooden tables, small logs, branches, paper, corks, leftover glass bottles, cardboard boxes, wooden fruit and vegetable boxes, rolling pins, egg receptacles, etc. The kitchen is a creative space and is full of materials that can be recycled to create a Christmas tree that will surprise clients.
It is an activity that can be fun, in addition to showing that the restaurant reuses its resources, thereby reducing typical restaurant pollution. So it all works out to your advantage.


eslamoda
Plants, fruits and spices
Another strength of our natural Christmas interior design would be plants. In our lounge, we can strategically place typical winter plants such as the mistletoe, which is a plant that represented family unity and reconciliation for the Greeks, hence the tradition of kissing beneath its leaves. We can also use a plant with red, white or green leaves, which are traditional for Christmas, along with aromatic plants such as rosemary or mint, which furthermore release fantastic scents in the air.
For smaller details and table centerpieces, for instance, we can combine rustic pine cones, bush branches and ivy leaves with fruits such as oranges, mandarins, lemons, and spices like cinnamon sticks and cloves. Pumpkins would also provide a very special touch.
The point is to make the restaurant "come alive" with very green plants, vibrant colors and smells that are reminiscent of nature.

Country Living
Organic and creative tableware
For tableware, we suggest using tableware material that is just as natural, such as clay dishes, bamboo bowls, or receptacles made of palm or biodegradable sugarcane fiber, etc. The market is seeing an increasing amount of high-quality, environmentally-friendly products that are resistant to heat and humidity. It is also a good idea to use disposable tableware and wooden utensils.
When it comes to napkins, the ones made of 100% cotton and reusable fabric are the best natural option. And one detail that we believe could make a difference is using flat logs as tablecloths and coasters. Since Christmas is an occasional and special time, it is well worth the investment and effort to surprise clients with these special details and therefore retain them.

Lauren Mcbride
Blackboards made of natural materials and with inspiring phrases
Another way of bringing Christmas to a restaurant is by using wooden or cork blackboards to write phrases that evoke the spirit of the season. We can place them in the entrance, the dining hall, the bar and write messages on them that inspire our customers. Even humor can fit in very well as a way of bringing joy and festivity to the ambiance.
We can also put the Christmas menu or specialty drinks or dishes on them using wording that entices clients to order them. A very strategic and complementary move could be to hand out cards with the most inspiring phrases along with the restaurant's contact information and social networks so that customers can take them home as a little Christmas gift.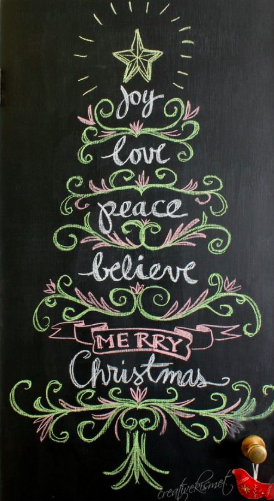 Regina Lord
Warm and relaxing atmosphere
Setting up intimate and warm lighting, such as yellower lights and candles, is ideal in Christmas. A wood-burning fireplace as a natural touch? Not a good idea. They pollute a lot. One option for bringing that warm touch to the ambiance is by using bioethanol stoves, which are more environmentally friendly and healthier.
With regard to colors, we can draw on the ones that were announced for the first quarter of 2019 by Pantone (a company that establishes global color standards on a seasonal basis), which happen to be very warm earth colors (red and orange tones) that go very well with the Christmas spirit. You can look them up here: Color palette for spring/summer 2019.

Pantone
Attracting clients during Christmas this year will require more than offering them glasses of cava (Spanish wine) and a bag of party favors. Customers are looking for more complete experiences that are tailored to their new lifestyles, and restaurants that adapt themselves to these trends are and will be the ones that will satisfy them. Do you feel like decorating your restaurant for the occasion? Happy holidays and happy dining!
And if you found this article useful, we invite you to discover all the tools that we have at TheFork so that your restaurant can stand out throughout the year. Click here.