How to hire employees at your restaurant
Published 10.10.2019 - Last update 10.10.2019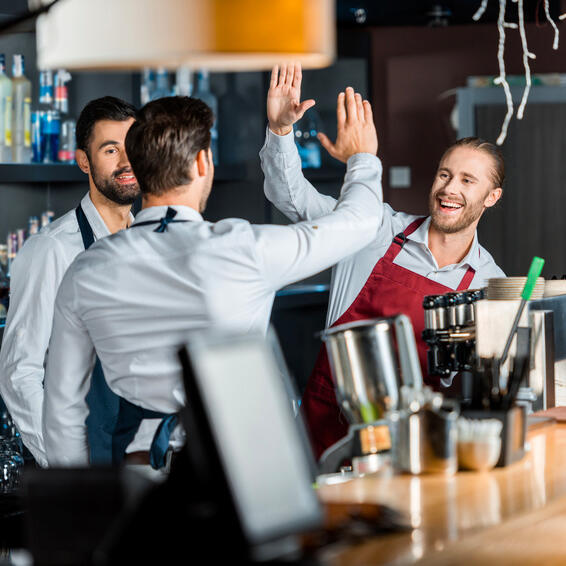 Hiring employees in our industry is a process that can be complicated, unless we want to do it well and above all find people that fit in with the restaurant, feel satisfied, and want to grow as a team.
Because of this, investing money, time and effort in a great hiring process to find staff that stay over the long term will always be more profitable than assuming the consequences of unstable staff. In the following, we will propose some strategies to better manage talent at your business.
Because we all want to have the best team!

Tips for hiring employees
.

Define the staff's values
Make a list with the 5 main values that you need and that you hope that everyone who works at your restaurant can follow according to the company's philosophy.
Values such as: transparency, friendliness, a good mood, leadership, passion, education, training, experience, business vision, creativity, etc.
Of course, we would love to have perfect staff with all these values, but since nothing is perfect, it is very useful to define our core values. Perhaps a restaurant tailored to generation Z would deem a good attitude and creativity more important than experience or training. Or a traditional family restaurant would find education and transparency more important than passion or ambition, for instance.

Establish the minimum aptitudes for each profile
Now establish the minimum qualities for the job position that the person you seek must have. If you want excellence at the restaurant, your objective must be to hire excellent employees.
For instance, employees who speak fluent English if they are dining hall staff. Or employees who have knowledge of pastries if they are kitchen staff and if desserts are the most important dishes of the offering. Or managerial or administrative knowledge for the department bosses if it is a restaurant with a lot of traffic and tailored towards high profitability.

Make clear and just agreements
Once you have great candidates, we recommend that you explain all the following with the utmost honesty: work level, the pace of the schedules, wage conditions, benefits, etc. By doing so, we give the person the liberty of evaluating the offer and accepting it, fully aware of what they will get.
It is also important to avoid offering arrangements in which a lower-level position is given to a person that is more qualified in order to avoid additional investment into this person, because this staff member could cause problems in the medium term and you will need to start over, or because this person would become frustrated or grow tired of not being able to move up.

Create a good probationary period
Any person needs a minimum amount of time and preparation to optimally take on a new job, and even more so if it is such a demanding business like a restaurant. So if you want the staff member to feel good from the start, become committed and stay, ensure that you plan a good probationary period for every person that comes in with fair adjustment time periods and where they are given all the training they need. We know that this is hard in our industry sometimes due to the immediacy with which things are managed, but if you truly want quality, you have to provide it.
.

Tips for building loyalty among your valuable employees
.

Involve staff in the business processes
After hiring the right employees, we can employ some strategies to build loyalty among them. Yes, employees are as important as customers, and they also need certain measures to feel like they are part of the project. Who better than your staff to act as the restaurant's main ambassador?
You can involve them in the creation of marketing strategies, measures to improve service, in customer acquisition and any business process. You can also take into account the team's opinion regarding the characteristics of the customers, their needs and preferences, since they are the ones who can get to know them the best.
It is, of course, crucial to handle team complaints. Who better than your staff to know what does not work in your business? Well, make sure that they have a voice, are involved and that their feedback is valued and recognized.
Another way to involve them is by making them the stars of your storytelling on your social media and business image. For customers, there is nothing more attractive than seeing video and visual proof that the staff is glad to be part of the restaurant.

Fulfill promises
If you promise good wages, you must follow through on it. If you promise balanced time off for everyone, you must follow through on it. If you promise commissions for sales, it is also important to follow through on it.
If you promise extra training to improve, you must follow through on it. If you promise a promotion within a certain time frame, it is absolutely important to follow through on it. Why? Because these are the aspects that employees deem the most important when working at a company.

Offer incentives and training
And to put the cherry on top, make sure that you provide incentives to consistently motivate them. Celebrate birthdays. Exchange special gifts with other companies. Give vouchers for free dinners at the restaurant. Offer benefits such as childcare checks, special medical insurance or even tours and trips paid for by the company, as a way to reward their efforts.
Another way of building loyalty among good workers is by regularly providing them training, courses and workshops, because when they are trained according to objectives shared with the restaurant, they have greater commitment and a sense of belonging.
Constantly putting yourself in the person's shoes would be the most powerful strategy when hiring employees at a restaurant and building loyalty among them. Understanding all of their motivations, their personal and professional needs and - above all - their contributions will create an exciting work atmosphere that customers will notice and appreciate with filled tables. We hope that's the case for you!