Manage your restaurant with Europe's latest trends
11.30.2015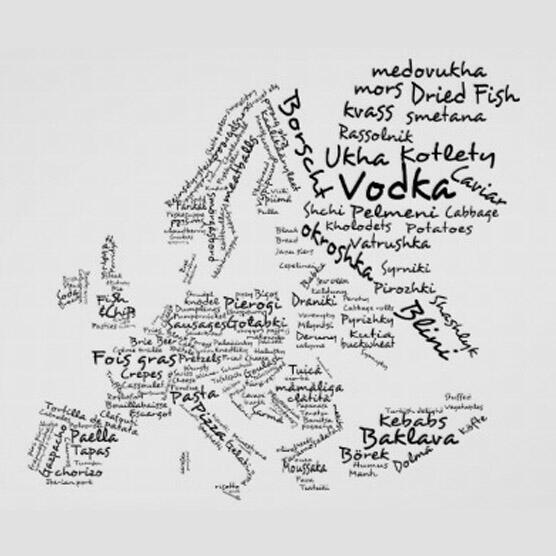 Restaurant management today is no longer confined to simply offering quality food and great service. New trends in the restaurant industry in Europe are focusing more than ever on the customer, and interested like never before in gastronomy, and technology becoming the most practical and natural way of controlling all processes.
A perfect example of this concept is the Basque restaurant  Azurmendi, which was awarded the status of Best Restaurant in Europe 2015. It considers all these factors, giving absolute priority to its clients, providing them with a personalized, simple, and transparent service, in a breathtaking sustainable, bioclimatic, and technologically cutting-edge setting.
If you're thinking about opening a restaurant or you want to put a modern stamp on your business, here are a few of the latest trends to inspire you:
An eco-friendly space
We are increasingly conscious of the impact of food on our health and the effect of our lifestyles on the planet. Think of it as if the planet and our bodies were one and caring from them both with be mutually beneficial. Almost as if the planet and our bodies were one and we should care for them both.
The demand for dishes created from sustainable, local, seasonal, and ultra-fresh productsis therefore increasing. And, if they are served in spaces where these concepts are respected, with installations that respect their environment, then all the better.
Consumers are increasingly becoming foodies and are concerned about eating well. Everyone wants to cook like the latest TV chef, experimenting with all kinds of new ingredients whilst creating a clean, healthy image.
The concept of natural wine, where grapes are grown organically on vines without any artificial treatments to create a new and original flavor, is now a hot new trend.
It is also increasingly important to offer gluten-free, lactose-free, and vegetarian options.
Creating a relationship of trust with your customers is an essential aspect in managing your restaurant.
Welcome home
The diner has changed from merely being a customer to an invited client who should be honored. It's all about creating a natural, relaxed atmosphere, getting rid of the traditional, stiff set roles, and, most importantly, providing easily accessible gastronomic pleasure.
The chef is on show more than ever, cooking on display for his diners, all to make them feel at home. Thanks to modern applications, it is now possible to hire the services of haute cuisine chefs such as Spain's Macarena de Castro, or Britain's Marc Fosh, who can be brought into your private kitchen along with their Michelin stars in just a few clicks. So there is zero separation
Fine dining is also coming to the streets, in the form of traditional food vans.  A fast and mobile version of the restaurant that doesn't seem to be going away any time soon.  New York style food trucks are becoming an increasingly popular option due to their practicality.
In terms of atmosphere, simplicity seems to be the rule.  Noma in Copenhagen, named as Best Restaurant in the world in 2014, is a perfect example of this. It's a restaurant that provides an experience without fancy table cloths or decorations, but plenty of wood, stone, and soft lighting, where technical approaches are pushed to the side in favor of artisan craftsmanship.
Curiosity in micro form
They say that variety is the spice of life, and this is certainly true with this up-and-coming trend. Customers want to taste several dishes, different options, and a variety of flavors. It's for this very reason that tapas style dining is fast becoming a popular option, not only in Spain where it is a tradition, but in Europe more widely, and even in the United States. Why?  Curiosity. Diners want to experience a taste adventure, trying small amounts of lots of different things. Small, jewel-like plates are all the rage.
Tasting a bit here and there also means it is perfect for sharing,  making this dining approach the hot new trend today.
Fusion dining
What does this mean? It is a trend that pairs traditional, classic dishes with unusual ingredients to give them an unexpected twist, withLatin America and Asia providing frequent sources of inspiration.
Peppers, sesame seeds, seaweed, coconut water, and curry leaves are flavors are becoming almost standard ingredients. Even insects are beginning to appear on menus in types of cuisine that are as geographically remote as possible from Mexico, where they have been eaten since the time of the Aztecs.
A return to our primitive interest in fire can also be observed with  grill cooking, a technique that is now being extended to haute cuisine restaurants to give a flavor of this most natural of tastes..
What is important in all these cases is that the dish evokes desire in its presentation and ecstasy on the palette, to become real #foodporn.
On-trend dishes:  Pizza, meatballs, ice cream, hamburgers, and dumplings are all being revisited and rethought. There is also an increasing trend towards bitter tastes or sour flavors.
On-trend locations:
Spain. It remains at the top of the European market in a post Bulli era that is still buzzing with innovation.
Germany. The country with the second most famous chefs.
Helsinki. A city that has become a real food destination. Its authentic cuisine evokes fascination with its strange dishes that come from this chilly climate.
Managing a restaurant that can stand the test of time is becoming ever more a question of having a good eye and an open mind to these  new trends. It's essential to pay attention to what today's foodies want to bring them pleasure, surprise them, take care of them, and offer them products as spontaneously as possible. Add to this the concepts of creativity and innovation, and you have the perfect recipe for success, both now and in the future.