How to control your foodcost
Published 11.13.2018 - Last update 01.03.2019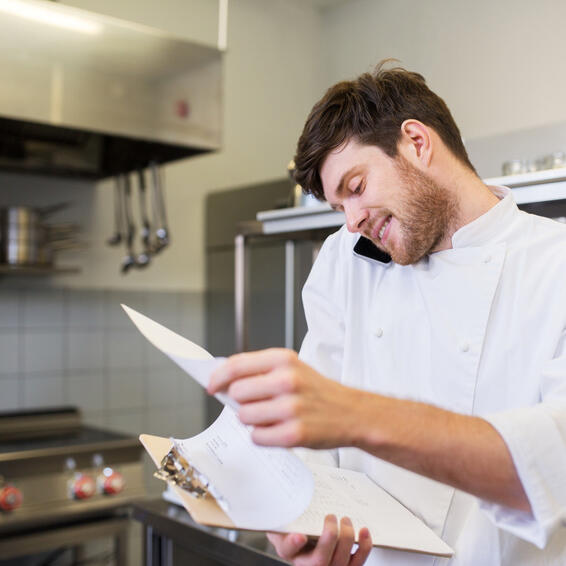 One of the main challenges in restaurant management is achieving good cost control for food. The truth is that it is one of the most difficult goals to achieve in practice, since it can be affected by factors that are practically unmanageable, such as climate, traffic, supplier contingencies, market price fluctuations, fluctuations in consumption trends, and in client traffic, just to name a few examples.
You could create an estimate of a restaurant's food costs, but it would be difficult to ensure that it will be 100% accurate and even more difficult to ensure its consistency. In light of such instability, we apply different strategies in the industry to stay afloat and ensure our profits.
One of them is the following formula that is used by many restaurants:
Food cost formula

Do you know your restaurant's food cost percentage per week?
It is a very complex question to answer and even more so in this era of many changes in restaurant management, where the standard percentage for food costs has been between 20% and 33% with regard to total food sales. However, we already know that every restaurant is unique. To calculate this percentage, we can apply the following formula:
Food cost percentage
Initial inventory + New product purchases – final inventory ÷ final food sales
Let's say that these are our restaurant's numbers for one week:
Inventory value at the beginning of the week: €5,000
Value of new product purchases: €2,000
Inventory value at the end of the week: €4,000
Food sales for the week: €14,000
Now let's apply the formula:  5,000 + 2,000 – 4,000 ÷  14,000 
It leaves us with this figure: 0.21, which would translate to... the percentage of food costs for one week: 21%
Using this as a basis and regularly making this calculation can help us prevent our costs from increasing and help us make better business decisions.
Having said that, in addition to applying this formula, we also recommend executing other strategies in our day-to-day work that will allow us to manage costs and optimize these processes even better.
How to better manage food stocks?


Purchase online. Since it is an automatic process, it allows you to save time, have a digital record of purchases and thereby better manage your acquisitions.

Have two local suppliers. By doing so, you can purchase more product from the most cost-effective supplier, for instance, and save on transportation costs since the products are local, you can have a solution for contingencies without paying extra and it exercises greater responsibility toward the environment.

Review purchases. Another practice that can help us control our costs is to meticulously review the quantity and quality of the food that suppliers deliver to us to ensure that they match the order.

Use labels. Having a visual food tracking method is another way to optimize their use to the greatest extent possible. We can use labels with the dates on which the products entered our inventory, thereby using them first and preventing shrink. We can also label them by category, recipe, preservation methods, etc., thereby ensuring efficient food rotation.

Use the right utensils. It is important to have instruments such as measuring cups, scales, measuring spoons as well as the right knives for peeling foods, for instance, since they allow us to produce the least amount of waste and make the most out of the products.

Try trash cooking. Many restaurants turn organic waste from certain foods such as shells, skins, seeds and entrails into ingredients for other recipes, making the most out of the products that they buy. It is a technique called trash cooking, which allows you to creatively and consciously use food and help fight the waste problem in the restaurant industry.

Observe the leftovers. There are products that clients constantly reject and leave on their plate. So, why offer them or serve them in the same quantities if clients do not eat them? It's due to lack of knowledge. As such, analyzing leftovers is a very strategic move for knowing what types of ingredients to remove from recipes or to reduce in quantity in dishes.

Create more cost-effective and "homemade" menus. In keeping with the aforementioned point, we can create our menus with products that are more cost-effective and consumed and remove dishes from the menu that are not as popular and produce more losses. It is also ideal to base our menu on "homemade" recipes made with more natural products, since it will save us money and make us more attractive to clients that look for healthy meals.
Fact:  "Two factors that cause the greatest increase in food costs in restaurant management are the creation of dishes that afterwards do not sell and preparing dishes due to mistakes in orders and in communication between the dining room and kitchen."
A tool for optimizing your food costs

Fortunately, the digital age has brought us fantastic tools for helping restaurants prevent overproduction and reduce shrink and team communication errors to the greatest extent possible. Making technology available for the needs of restaurateurs has been a constant for us at TheFork.
Accordingly, our reservation management software, TheFork Manager, can be an invaluable partner when it comes to optimizing food purchases and better controlling costs. In this tool's database, we can record valuable information such as the types of wine that are consumed the most by potential clients, the desserts that are ordered the most among new clients, clients that order bread, those who do not, those who prefer tea over coffee, etc. and use this information to make purchases that are more suited to diners' actual needs and to prevent losses.
Click here if you still do not have TheFork Manager in your restaurant management.
We hope that you are already implementing some or all of these measures in your business and that you can efficiently control your inventory costs. An important challenge, but not an impossible one. Amen to that!