Restaurant name: How to brand a restaurant?
Published 12.10.2021 - Last update 01.10.2022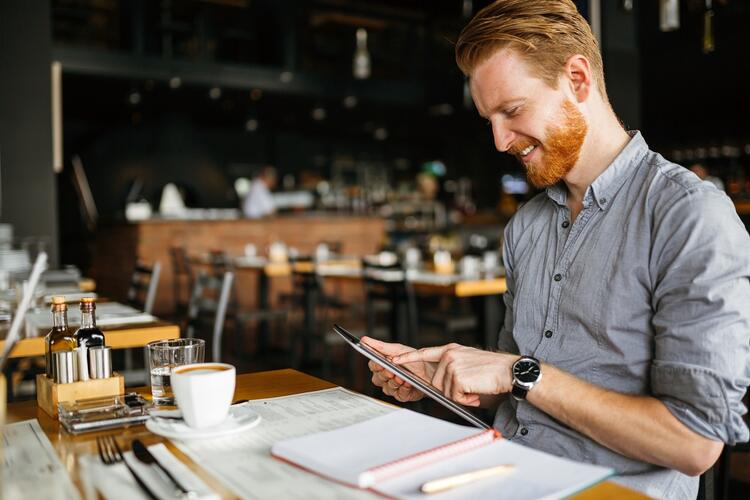 In today's world, storytelling and social channels  dominate consumers, making your restaurant brand a very important asset.
Through your restaurant brand you can build a recognisable identity, which can be used across multiple levels of communication. Your restaurant brand will help with marketing your restaurant and attracting new diners. Your restaurant's brand and name will play a large role in how diners perceive your restaurant, and influence whether they choose to book with you when they come across your website, your TheFork restaurant page, your social media and more. 
Your restaurant brand should give diners a unique feeling that they associate directly with your restaurant. This makes your restaurant memorable and enticing, attracting more diners both online in the digital space as well as offline through diner word of mouth. 
From your restaurant's logo to its website and even its tone of voice, building a restaurant brand can be a complex task. To help, we've outlined some of the common questions to tackle when branding a restaurant:
How do I choose a restaurant name ?
How do I design a restaurant logo ?
How do I choose a slogan for a restaurant ?
How do I choose a restaurant name ?
A restaurant's name is not only important because it is your identifier, it can also be a nightmare to change. Your restaurant brand will be directly linked to the name of your restaurant and should be something you dedicate real thought to. 
First thing's first - when thinking of a restaurant name, you should define your restaurant values and mission. This will help you identify the tone of your brand and enable you to decide if you want a restaurant name with a tone that is fun, nostalgic, luxurious, quirky or something else!
Your restaurant name idea can be inspired by topics like:
Cuisine type 
Community or location
Descriptive words about your restaurant environment 
Names of people
Personal stories or nostalgic things related to your restaurant 
This is your chance to really get creative and personal. 
Try to find a restaurant name that stands out and isn't already taken 
We know that there are tonnes of restaurants out there. It may be hard to find a name that no one else has and the simplicity of choosing a generic restaurant name is enticing, but it is important both brand-wise and for your restaurant's marketing to put time into finding a name that is unique. Having a unique restaurant name will help you always be top of mind when diners search your restaurant and make your restaurant more memorable and recognisable. Having a unique name also makes it easier to trademark your restaurant name and create things like restaurant merch.
Search restaurant name availability using:
Simple Google searches 
Trademark search databases and Business registration databases 
The good thing about cracking things like a restaurant name is that you don't have to do it alone! Get ideas and opinions from friends and family , utilise name generators online to bring inspiration, or do a paid online poll.
You're not working with TheFork yet ?
Boost your bookings, Try out our PRO version now
How to design a restaurant logo ?
If creating your restaurant name didn't bring the creative spirit out of you, designing your restaurant logo definitely will! Again, it might seem enticing to go the generic route and be very simplistic, but this is a great place in which you can really shine in branding and create a recognizable piece of your restaurant! 
The restaurant logo will be everywhere your restaurant is and across all communication channels. 
When designing your restaurant logo you can hone in on a few design elements like:
Shapes 
Colours 
Fonts
Special Characters
Utilising design elements like colours can convey different subtle messages to your diners in their first look. Strategically choosing restaurant colours and colours that work well together is an important step when designing a restaurant logo.
What messages do different colors send to diners?
See how some of the most commonly used colours in restaurant logos make your diners feel at first glance.
Red is an exciting color normally invoking intense feelings which can range to be good or bad, it's a bold choice!
Blue is a color that incites a soothing and calming feeling
Yellow is a fun and uplifting color, bringing a  joyful feeling
Green invokes feelings of health, vitality, and nature
Black, much more heavy, gives the feeling of sophistication, timelessness, and prestige
Explore logos of popular restaurants and brands you appreciate to draw inspiration, and feel confident in consulting help from designers or online tools like Canva to get your logo design going!
How do I choose a slogan for a restaurant ?
We all know one brand that we can never miss because of their memorable slogans! A slogan is a catchy phrase that represents your restaurant. Think of your restaurant slogan as a simplified mission statement for your restaurant in a creative way. The slogan should be in line with your overall tone of voice and should make sense when you share it on places like your marketing material or menu for example. 
As long as the message is clear, a restaurant slogan can be as long or short as you need to get your message across, but just remember you want to leave your diners with a little mystery enticing them to see your restaurant and what it has to offer.
All in all, choosing a restaurant name will be the very beginning of where you start to build your restaurant brand and how your diners will know you. The best part is, your restaurant name, logo, and slogan can't go wrong if it represents what your restaurant means to you and should mean to your diners!