Halloween ideas for restaurants
Published 10.26.2022 - Last update 10.17.2023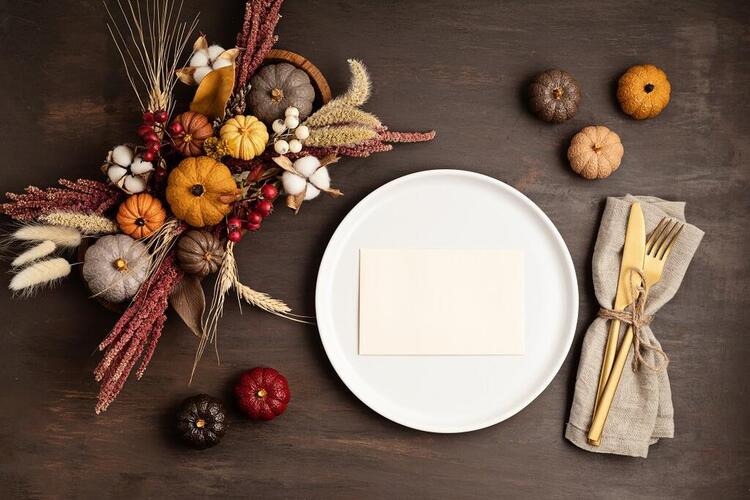 Delicious autumn is here, bringing with it new opportunities to connect with diners. Despite the still gloriously warm sunny afternoons, the leaves have already turned yellow, crimson and russet, and no amount of wishful thinking will stop the daylight hours from dwindling. But the shorter days and increasingly chilly nights of October also bring the cheering appearance of piles of pumpkins and creepy candy in shops,  making it impossible to forget that  Halloween is fast approaching.
Celebrated on October 31st, Halloween falls on a Monday this month. And kids and adults around the world are gearing up to celebrate what is arguably one of the most fun holidays of the year with parties and other events over the Halloween weekend. Do you want to share in the Halloween revelling with your restaurant customers? Depending on your restaurant's style, consider conjuring up an all-out eerie Halloween vibe, some family-friendly Halloween fun, or a more understated autumnal Halloween feast. Try our tips to transform your restaurant into a Halloween haven your customers won't forget!
Organize a family-friendly Halloween lunch or dinner
Want to lure in new customers with kids to your restaurant? Organize a family friendly Halloween lunch or dinner. For many people with children, October involves lengthy deliberations about what to dress up as, costumes, and Halloween decorations. From last minute shopping sprints to buy candy or pick up essential costume accessories to carving the pumpkin and walking around the neighbourhood rain or shine to accompany kids trick or treating-preparing for Halloween is fun but takes a lot of energy. Why not give customers the chance to relax in your restaurant and enjoy Halloween with their kids without having to worry about the cooking. Some thoughts on hosting a family friendly restaurant Halloween dinner or lunch:
Schedule an early Halloween family friendly dinner or late lunch on the day of Halloween or a few days ahead to leave ample time for trick or treating. Parents will be relieved for their kids to eat some real, nutritious food before ingesting large quantities of candy.
Create a fixed price kids' Halloween menu featuring cute, spooky, or "disgusting" Halloween dishes such as savoury pastry snakes or witches' fingers and green guacamole with devilled egg spiders, tomato blood soup or gazpacho with mozzarella ball eyes,  ghostly merengues and mummy or jack-o-lantern cookies, to name a few. Think foods, sauces and beverages in red, green, orange, and black for a thrilling menu! While adults may also get a kick out of these ghoulish menu items, you may also want to give the adults the option of traditional fall menu dishes without the yuck-effect.
Hold a Halloween costume contest for kids with the winner getting a free child's meal. Provide Halloween crafts activities such as cut out pumpkins or black cats to decorate, free-printable Halloween games, make your own mask and don't forget to ask staff to dress up for the occasion! 
Boost your business now
with our PRO version
Launch a bewitching Halloween drinks menu
In the week leading up to October 31st, get people in the mood to celebrate Halloween with an assortment of warm and cosy, or chilling Halloween libations.
Think: spiced pumpkin latte, hot apple cider with cinnamon or spiced mulled wine, red fruit smoothies, fresh squeezed orange juice with lichee eye balls, pear, pumpkin and ginger mocktail,  blood red pomegranate mojito mocktail or cocktail, or classic martinis with olive eyeballs, black vodka bloody Marys….and other magical potions!
Give your customers a treat with irresistible Halloween desserts
While adults don't usually indulge in trick or treating for candy, everyone likes a Halloween treat. Indulge their craving for something sweet with Halloween and fall-inspired desserts such as pumpkin or sweet potato pie, pumpkin cheesecake or mousse, chocolate spiderweb cake, caramel apples, gory black velvet cake with raspberry coulis, cinnamon apple and pear crumble…
Invoke the spirit of Halloween with mesmerizing decorating ideas
If you are hosting a family friendly Halloween event or meal at your restaurant, make sure to enchant the kids without terrifying them. Go for a mildly spooky, friendly Halloween vibe with carved real jack o lanterns illuminated by LED lights and/or strings of Halloween inspired LED lights, friendly ghost napkins, cut-out wall decorations in the shape of bats, black cats, pumkins, witches hats or other creepy crawly things, and go for orange themed table linens and dishware….
Having an adults only Halloween dinner and costume party? Transform your restaurant into a haunted castle with gothic style candle holders, white and black candles,  mirrors, black table cloths and glass skull mugs or goblets, black or deep purple roses or other flowers, bowls of creepy eye ball candy and other ghoulish touches! Let your employees have fun dressing up in scary or kitsch costumes and don't forget to create a harrowing Halloween playlist!
If you want to host a more understated Halloween dinner or lunch, try our more subtle fall decorating ideas and keep the Halloween-specific decorations to a few tastefully arranged carved pumpkins and an orange themed decor.
However you choose to celebrate Halloween in your restaurant, be sure to share the Halloween fun across all your social media. Post your own Halloween recipes and invite customers to post pictures of themselves eating your Halloween dishes in their costumes. Offer a prize for the best costume and post a picture of the winners. The idea is to make your restaurant a Halloween tradition for customers old and new!