Take advantage of the end-of-the-year holidays to fill your restaurant
Published 11.15.2021 - Last update 11.15.2021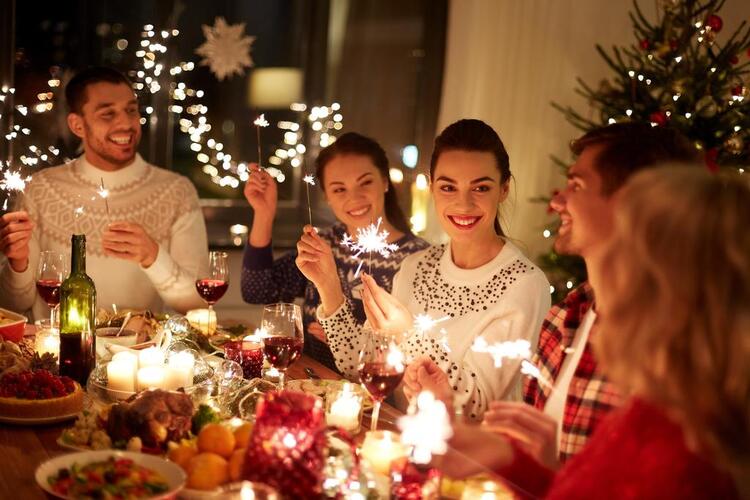 It is the best time of the year to fill the restaurant's tables! and we believe that this is also the case for your business. An exciting moment, full of activity, planning, expectations, special offers and - above all - customers who want to celebrate outside their home and have memorable experiences.
To ensure that this is the case, we have prepared for you these strategic ideas so that you can apply them at your restaurant and therefore have full tables during the entire season. Cheers!
Offer a complete event
Organize a complete event so that your customers can celebrate all of Christmas or the new year at your establishment. With live music, appetizers and welcoming glasses of cava, a dinner with a special menu, party bags with grapes and glasses of cava for midnight and, of course, cocktails to celebrate beyond midnight.
In fact, you can also make it a thematic event. "Magical end of the year, special 90s, futuristic..."and you can even include a personalized party bag where customers can customized their attire according to the party's theme. You can also give customers small gifts with your business's image, such as pen drives, cups, cloth bags, etc., as a memento.
Hold special dinners and meals
There are many diners that choose to dine at a good restaurant first and afterwards continue celebrating at family or friends' homes or at nightclubs. You can impress them by offering them the best Christmas dinner or at the end of the year, before midnight, with a glamorous ambiance with, e.g. shiny elements, luxurious tableware, seasonal plants, aromatic herbs and cinnamon aromatizers.
You can also hire a group of musicians to create a welcoming and bucolic atmosphere with versions of classic Christmas songs.
Another option is to offer these dinners in the days following the holidays, since many customers will appreciate being able to eat out instead of cooking. For instance, on January 1st, because if your business will be open serving delicious products, it will be the chance to capture those customers while other establishments are closed.
Welcome Groups
The holiday season is the time of year restaurants can expect a boost in larger dining parties and group reservations as diners have the holiday time away from work to enjoy and connect with family and friends. While more diners are always good news, it helps to have a little help smoothing the management and understanding the demand of large parties. With TheFork Manager, restaurants can benefit from the group reservation feature, allowing restaurants to create a group booking option with a customized min. and max. number of diners. Once restaurants receive these group bookings they have the option to accept the reservation or not depending on seating and availability.
 
Attract companies and friends
Take advantage of this entire season to invite different types of customers to celebrate at your business. Prepare menus with very special dishes and prices so that companies and groups of friends can celebrate their Christmas and end-of-the-year parties at your tables.
The key to stand out from the competition is to provide personalized service, taking into account the style and tastes of these customers so that you create a menu that is in line with them, and the price must be tempting. It should represent a quality, variety and price opportunity that they cannot resist. Avoid creating a unique and restricted menu for all and making customers have to adapt to it.
In addition to meals and dinners, you can innovate and offer holiday brunches where customers celebrate from mid-morning to mid-afternoon, with varied dishes for sampling and delicious cocktails, as an alternative to the classic 3 dishes. This gives customers greater freedom to spend time with friends and exchange gifts while they consume products during the entire event.
Prepare incredible dishes
In Christmas celebrations, food is the star of the show; in fact, we wait until this time of the year to prepare the most elaborate and special dishes for each culture. Because of this, it is our time to shine, either by cooking traditional recipes of the city in which the restaurant is located, or by creating original and creative versions of these dishes, or by serving dishes that are different but just as spectacular.
It is strategic to plan your recipes for Christmas and the end of the year by analyzing your potential customers' tastes. Analyze the information in your database and take into account your customers' favorite drinks, ingredients and dishes to prepare recipes with the greatest likelihood of success in your Christmas dinners. You can advertise these dishes as "seasonal only" or "limited time only" to increase your customers' interest.
Click here if you still do not have a database.
Include a raffle
Yes! it is a stupendous idea for attracting customers and therefore filling your tables during this time. You can make exchanges with other companies such as hotels, travel agencies or household appliance companies to raffle fantastic experiences or surprising gifts in addition to dinners at your restaurant. Have a very lively person hold the raffle and recreate a true party at your business. If customers leave happy, you will make them want to come back.
Promote your events in all your channels
If you take the aforementioned measures, promote them in all the channels you can. Use flyers and posters at your restaurant and do so digitally on your social media (create a hashtag of your events), on your web page and, of course, on your profiles on TripAdvisor and particularly TheFork.
What TheFork offers you to fill your tables
To hold these celebrations, most customers contact the restaurant via online reservations. Since our platform is one of the most visited on a monthly basis and mainly during this time, we invite you to contact your adviser at TheFork so that you can:
Publish your entire special Christmas or end-of-the-year menu via TheFork Manager.
Appear in our special section of the best restaurants with a "Christmas" or "end-of-the-year" menu and stand out from the competition.
Send newsletters and SMS messages with promotional messages about your events and thereby attract all your customers.
And to ensure that your tables are 100% full during this time, do not forget to activate the following functions:
Reservation with a credit card so that if a customer cannot come at the last minute, you can still earn something and cover costs.
The waiting list so that users can register for the list and receive a notification when there are new spots and not miss any reservation this way.
Reservation confirmation to send SMS reminders of all your reservations during these dates, thereby preventing possible no-shows as much as possible and increasing your customers' commitment in such sensitive times as these for the restaurant.
Is your restaurant still not on TheFork? It is the best time to join! Click here and begin to enjoy all our advantages during the Christmas season and the rest of the year. You'll be glad you did!