Which is the best social network for your restaurant's marketing?
11.15.2018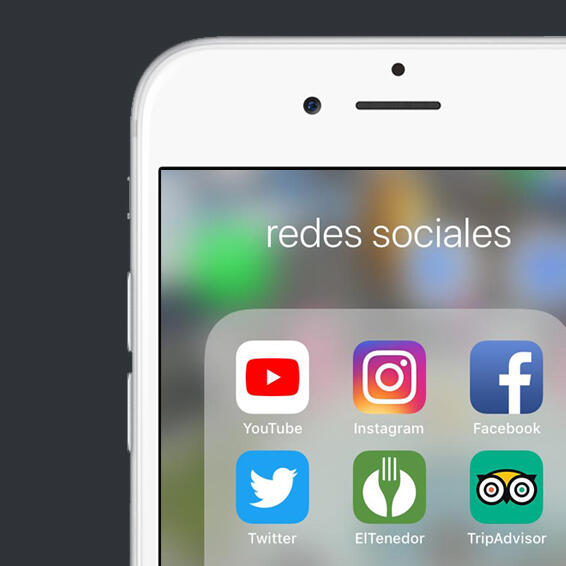 How do you know if the social networks that you are using in your restaurant's marketing are the right ones? It is a question that many restaurateurs ask themselves, especially when they are starting to promote their businesses and decide to invest their marketing budget in the digital channels where the customers are.  
One thing is certain: although Facebook has been the most useful social network for restaurants for several years, in 2018 and according to estimates for 2019, Instagram is gaining ground as the most interactive showcase for gastronomy. Well then, on which social network should be pull out all the stops? To answer this critical question, we need to evaluate several aspects:
Restaurant characteristics

Is it a 3 Michelin star restaurant with creative cuisine whose product is highly visual and cosmetic, or rather a family pizzeria where contests and offers work stupendously?
Is it a very vibrant college brewery with live music, or rather a small bistro that serves healthy and environmentally friendly food where there is great importance on nutritional information and the origin of the products?
Each one of these variants will on the one hand determine the type of restaurant that we wish to promote, the type of customer that we need to attract and, of course, the social network that will work best for us.
Potential customers

Likewise, a restaurant can have different types of customers, but there are generally potential customers who like the establishment's products the most and have the best interaction with the brand.
These customers also have a preferred social network, which is why it is crucial to define their profile to understand which channel provides them the most value and can best help us meet their needs and have them seated at our tables.
There is no doubt that the digital interaction of men between 45 and 55 years of age will not be the same as that of young college students or women between 30 and 40 years of age. And it is probably not their main social network either.
Objective of marketing for restaurants

With the two previous bits of information, the restaurant's characteristics and potential customers, we can set the objectives that we wish to achieve with our marketing campaigns.
Gaining reservations on certain days, promoting a new product or menu, attracting customers to a culinary workshop or tasting, increasing the database, reinforcing the brand image, etc. Each of these objectives could work out in different ways on social networks.
Let's say that the ideal scenario would be finding the social network that provides the greatest value to our potential customers and that can best be adapted to our objectives, since it would be the place where we will achieve our best results.
Tip: It is also interesting to analyze the usage statistics for different social networks by region, city or country and to take into account that information.
Nowadays, we know that...

Facebook - 2.23 billion active users per month *
Continues to be the most widely-used social network in different markets. That alone is a reason to invest in it.
This is especially the case if the restaurant's potential customers are between 24 and 38 years of age; in other words, a huge majority! They are called the millennial generation, and they are the ones who use this digital channel the most.
Facebook is perfect for making announcements and promoting posts that are segmented by age, marital status, location, tastes, preferences and in different formats according to the objective. It is a full-blown social network where the restaurant can offer highly interactive content (images, videos, stories, live streams) as well as customer service (comments, messenger) and direct booking.

Instagram - More than 500 million active accounts on a daily basis **
The power of the image is Instagram's strength. It is a powerhouse that is here to stay and that an increasing number of restaurants are using in their marketing plans. You could say that its quick and dynamic interface makes it a favorite of generation Z, users between 16 and 23 years of age who, according to forecasts, will have the greatest purchasing power in the future.
Instagram stories are especially interesting for advertising. Since they are so visual, they fit in more naturally with the content that users are viewing , which also helps get them to interact and click to answer a call to action, such as booking, registering for a contest, or viewing other restaurant content.
And with IGTV, the restaurant can reach an audience that is more interested in special, longer-length content with a different value. You can publish videos up to 15 minutes in length on e.g., preparing a recipe, interviews with personnel or invited chefs, reports on a special restaurant event, etc.
Oh! and reservations can also be made thanks to ElTenedor's technology. Yes, your customers can reserve a table at your restaurant from Instagram. Read here to learn more.

Youtube - More than 1,900 million users log in per month ***
Although it is not a channel that is mainly used by restaurants due to the fact that it requires greater investment and effort, it is the perfect social network for creating customer loyalty or online reputation strategies through videos that tell interesting stories about the establishment.
YouTube is great for tutorials, so videos on how to prepare succulent recipes could be high-value content. And if it is fun content that attracts generation Z then all the better, since these customers also love YouTube, a channel that they use for entertainment.

Twitter - 335 million active users every month ****
Also used to a lesser extent by restaurants, it is a social network that is particularly effective for making an impact on potential customers from specific niches or to highlight business profiles such as the chef, the bartender or the manager, among users who are also segmented.
Likewise, it could also depend on the restaurant's geographic location, since it is a social network that is used more frequently for culinary purposes in some countries than in others.  And, of course, there are two online platforms that we cannot overlook:

TripAdvisor - 456 million unique visitors per month *****
Nowadays, being in the hotel business means having a profile on TripAdvisor, the world's largest travel network, where millions of users interact on a daily basis by sharing photos, reviews and ratings of restaurants where they have dined.
It is an important global showcase for gaining visibility among customers that seek to invest in businesses where others have had great experiences. Are you still without an account on TripAdvisor? Now is a good time to start.

TheFork - More than 12 million opinions ******
Our platform has become the primary online reservation channel for restaurants in Europe, and that is saying a lot. Thanks to the technology that we have developed, restaurateurs can interact with users via opinions as well as showcase their products and services, offer discounts, participate in special events, etc. It is without a doubt a key online channel for marketing for restaurants. Click here to join our community.
And if your business still has no presence on social media, we invite you to read the following article to understand why you need to have a presence there if your objective is to consistently fill tables:
The transformation of restaurants in the digital age
.
Sources:
* Global statistics from June 2018. Facebook's official online newsroom.
** Internal Instagram data from June 2018. Official company website.
*** Internal data from 2018 from Youtube's official online news page.
**** General Twitter results from the third quarter of 2018. PR Newswire.
***** Information from the second quarter of 2018. TripAdvisor's official online newsroom.
****** General information from 2018. TheFork's official online newsroom.