Basics of online marketing for restaurants
04.26.2016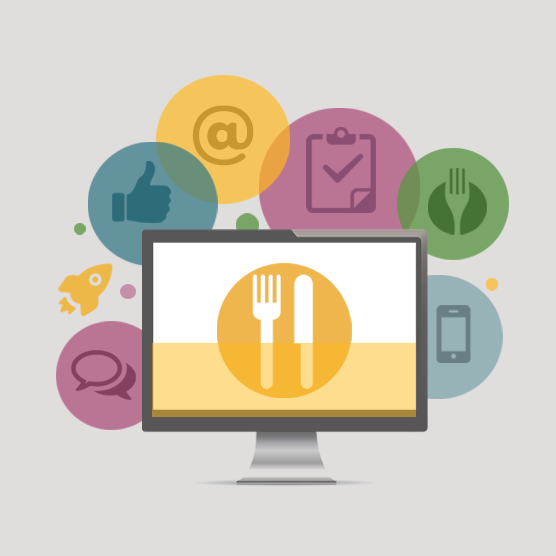 The rules in marketing for restaurants have changed. To advertise a restaurant, you used to have to distribute print advertising and create radio advertisements. Nowadays, this is no longer enough if your restaurant doesn't have an online presence, because that's where your customers are and where their gastronomic experience begins and ends.
According to data of the restaurants present on TheFork…
  … of customers consult online reviews when looking for a restaurant.
… of online restaurant reservations are made on a mobile phone.
 … of restaurant reservations are made online.
 ... of restaurants implement an online strategy.
With this in mind, it's clear to see that every restaurant needs to be on the web. But watch out! You also need a marketing plan which guarantees results. That's why we're going to present you with the basics of online marketing for restaurants, so that you can get the most out of your online presence. Take note!
What do you need to promote your restaurant?
#1- A website
Your website can be made by you or by an agency. You can also create one easily by using TheFork's online platform.
This is targeted towards active customers, those who come directly to your website. They already know about you. They've typed your website into their browser or found you on Google.
They would like to have a look at your menu and prices, find out your location or make a direct reservation. They're customers who want ease of use.
Your website needs to have an online booking engine, up-to-date information, as well as contact details and links to your social media.
A 2016 trend is the fact that customer appraisals of your restaurant on your website make more sales than self-promotion.
The website of the restaurant Chez Yvonne in Strasbourg serves as an example.
#2- Social media
This is mainly used to make passive customers loyal; these are customers who don't make direct purchases, but interact with your restaurant through the content that you publish.
 … of restaurants are on social media.
 ... of restaurants have increased their sales by 10% since joining social media.
Since there are different social media, you need to know which are the most appropriate for your business according to your objectives:
Instagram is ideal to reinforce your restaurant's brand image, especially among foodies.
Twitter  will help you reach an older and more executive clientele that wants to find out about the latest developments at your restaurant on a daily basis.
Google+ will help you get found more quickly on its search engine and assist you with your marketing initiatives.
However, one social network continues to be the most used in restaurant marketing:
 … of restaurant businesses have an active Facebook page.
Facebook is still the most complete social network to keep your customers coming back for more. It lets you:
Publish varied content (text, images, videos).
Run competitions.
Tend to your customers (through messages and comments).
Make online reservations (e.g. using TheFork's booking engine).
Post special offers and include opinions from specialist websites.
An example of this is Italian restaurant Alajmo's, where its chef, Massimiliano Alajmo, posts emotive content to connect with his customers.
#3- Specialist websites
A presence on these platforms is important, because it'll allow you to reach new customers who don't know about your restaurant, as well as passive customers who don't search directly for your business but already know about you. In both cases, visibility on these websites is determined by the scores that your clients give you in their online reviews. That's why, as well as posting nice photos and detailed information on your gastronomic offer, you have to respond appropriately to both the positive and negative reviews from your customers.
Choose specialist websites which are most influential in the city where your restaurant is located, or where your potential customers are.
In summary, in order to introduce your restaurant to the world of online marketing, you'll need:
A website
Profile(s) on social media
Profile(s) on specialist website(s)
Having these elements in the marketing of your restaurant will help you attract customers to your business. Are you already doing this?