Onboard your staff on TheFork PAY to capitalize on "La France Au Resto", "Todos a los Restaurantes", and "Italia Al Ristorante" bookings
07.21.2021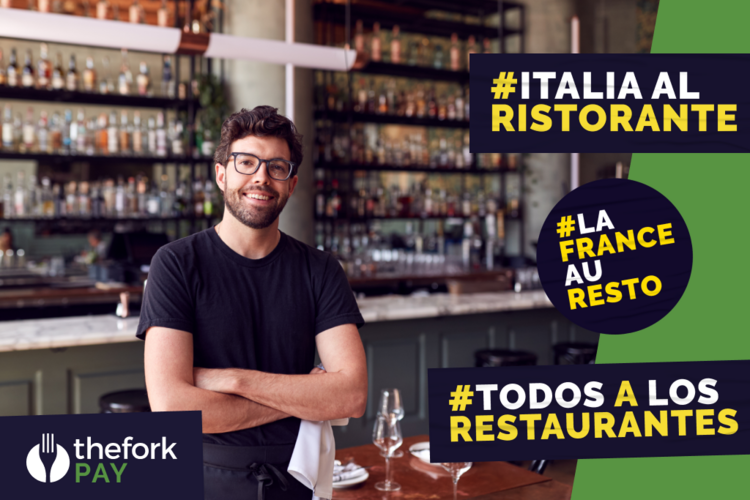 Train your staff on TheFork Pay to boost your customer satisfaction
From July 15 to September 15, 2021, TheFork is giving 20€* OFF to all diners making their first booking on the app in Spain, Italy, and France. Hence,if your restaurant has activated TheFork PAY, get ready for an increase of bookings! 
TheFork Diners will be able to book at your restaurant and redeem the 20€ voucher given by TheFork to pay the full bill through TheFork Pay, our mobile payment solution. The deduction applies as soon as the bill exceeds 21€. Now is the time to make the most of this amazing business opportunity by properly onboarding your staff for the campaign and training them on TheFork PAY, our innovative, contactless and secure payment solution your diners will use to actually pay the bill throughout this campaign.
 
How to use TheFork PAY during service
🧾Once the meal is over- your staff can print the bill as usual, including any offer, and bring it to your customer's table. 
💳Diners start their payment directly on TheFork app by inputting the bill amount and adding their payment method (visa, mc, amex)
👛Diners can add a tip and confirm the payment directly on TheFork PAY
💻Your staff can then check the payment on TheFork Manager, using the credit card icon next to the customer's reservation.
📧You will receive an email with the details of each transaction and at the end of the service, you'll receive a summary email.
💶The payment amount will be available within 2 business days
Keep in mind: If the user has a 20€ coupon from TheFork, you don't need to apply for it yourself. We take care of it ! Your bill should only include special offer or yums if applicable.
Discover the full process of How to use TheFork PAY during service in our tutorial video.
TheFork tips to onboard your staff and make it smooth
If your restaurant has activated TheFork PAY feature; spread the word to every staff member, as it's vital all staff members are aware of the payment method and how it works. You want to avoid refusing any "La France Au Resto", "Todos a los Restaurantes", and "Italia Al Ristorante" bookings because this info got lost in the process.
Train your staff on the usage of TheFork PAY and share the FAQ with them so they feel confident about the feature and at ease when answering diners' questions.
Be sure your staff understands clearly how to handle any checks paid via TheFork PAY to help drive happy dining experiences
Respond to all your online reviews to monitor your customer satisfaction and continue to welcome new ones.
Still having some doubt on TheFork PAY usage? Contact our support team via phone ( xxx) or chat directly with us from TheFork Manager 
Not sure if you already activated TheFork PAY?
Connect to TheFork Manager
Click on TheFork PAY on the left menu. 
If your status is Active, it means TheFork PAY is correctly activated and you are ready to receive payments !
If your status is new, missing info, pending, blocked or rejected, contact your account manager to finalize.
You're already working with TheFork but have not yet activated TheFork PAY feature?
Activate today TheFork Pay, TheFork's digital payment solution, free until the end of the year!
*Offer available only with booking from the app from 15/07/21 to 15/09/21 | min. expense of 21 € and payment with TheFork PAY - Check local terms and conditions below: