Restaurant Floor Plan: How to Create a Floor Plan
Published 11.09.2022 - Last update 09.05.2023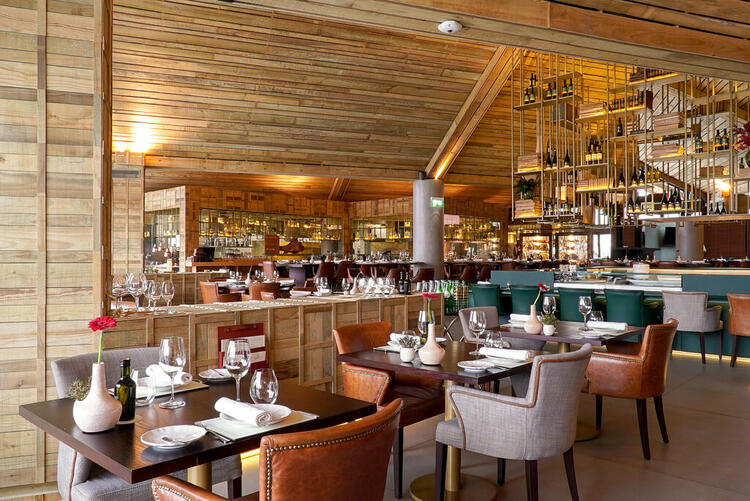 How to make a restaurant floor plan
For most people, coming up with a great restaurant concept takes a lot of thought, a good grasp of the local competition and at least a few "Aha!" moments.  Whether you are opening a brand new restaurant or re-designing an already operating restaurant business, a restaurant floor plan is an essential tool to give you an overall vision of your restaurant's potential setup enable you to make the most out of your restaurant space, no matter how big or small your restaurant is.
Designing an accurate, comprehensive restaurant floor plan is one of the most important steps that should be done early on if you are opening a new restaurant or re-modelling an existing one. A floor plan is the blueprint and nuts-and-bolts foundation that will empower you to build on your restaurant concept and brand. So once you have defined the type of food, atmosphere and service model you want for your restaurant and found a location that fits your needs and budget, you're ready to take on the next milestone:  making a clear, comprehensive restaurant floor plan. 
What is a restaurant floor plan?
A restaurant floor plan, which is usually digital but can be hand drafted, should map out your space's layout to give you an overview of where everything in your restaurant will go. Designed to scale, it should accurately show where every room, electrical outlet and fixture, door, window, and entrance is relative to each other. In addition to indicating the size of each room and the distance between rooms, it should show the individual layout for each room including the positions of furniture, equipment and most importantly, tables. A properly executed, well-thought out restaurant floor plan will help you to make the most out of your restaurant space while enabling you to provide a better customer experience and ensuring the safety and comfort of staff. 
Boost your business now
with our PRO version
What to include in a restaurant floor plan?
A restaurant floor plan should delineate all areas in the restaurant such as the dining room, bar, entrance and waiting area, POS terminals, kitchen including food preparation, cooking and server pick-up areas, storage rooms and dishwashing areas, restrooms, corridors or stairwells,  staff rooms and any outdoor spaces among others. 
Restaurant floor plan ideas
There are many factors to take into consideration when designing a restaurant floor plan. Here are a few issues to consider: 
Restaurant building codes and regulations: An architect and interior designer should be aware of these but it is always best to be as informed as possible when designing your restaurant floor plan. Consider social distancing guidelines in case of an epidemic, number and position of fire exits, designated areas for waste disposal, required number and type of restrooms…..
Accessibility guidelines and requirements: Ensuring disabled access in restaurants is not only the right thing to do from a moral perspective, it is also a legal requirement in many countries. Make sure you or your architect is aware of your country's accessibility requirements (height of tables, ramps, restroom access…) and incorporate these into the restaurant floor plan. 
Dining area size: keep in mind that according to many restaurant industry experts, typically the dining area (including the bar, entrance and waiting areas) should take up 60% of your space with the rest of the space devoted to the kitchen.  
Meters squared (square footage) per customer: how many meters squared you allocate to each customer and table will depend largely on the style of restaurant service and atmosphere you are planning. Generally, fine dining or more high-end restaurants tend to allot more meters squared per customer than casual or fast food restaurants. You also need to have in mind the design occupant load for each room in your restaurant (this refers to the maximum number of people that can be in a room at one time while being able to escape in the event of a fire. 
Restaurant table type and spacing: it is generally recommended to offer a range of tables to accommodate different group sizes. Make sure to leave enough room between tables to allow people to circulate freely and safely and feel comfortable. No one likes to feel crammed in. 
Restaurant floor plan software tools: what to use?
Even if you plan to hire a professional interior designer or architect to produce your final restaurant floor plan, you might want to make a preliminary floor plan on your own using one of the many relatively inexpensive design software tools available today. Many of these tools allow you to integrate interior decorating features to give you a more realistic picture of what your restaurant could look like. Taking stock of every aspect of your restaurant space, both its advantages and challenges,  and trying to work out how you intend to use the space, will clarify your ideas before you sit down with a professional. 
Producing a realistic, detailed restaurant floor plan will take time and planning. You will need to spend plenty of time studying your restaurant space (i.e. visibility from the street, natural sources of light at different times of day, existing plumbing fixtures, advantages and disadvantages of the space…) and taking measurements. The process will also force you to think carefully about the type of kitchen layout and dining room area you really want and how it will fit in with your restaurant's personality and brand.
However, this is one step that should not be rushed as a well-designed restaurant floor plan can significantly enhance the customer experience, facilitate day-to-day operations and ultimately save you money by avoiding potentially costly design mistakes.