How to create an event for the restaurant's Facebook page
Published 09.17.2019 - Last update 09.19.2019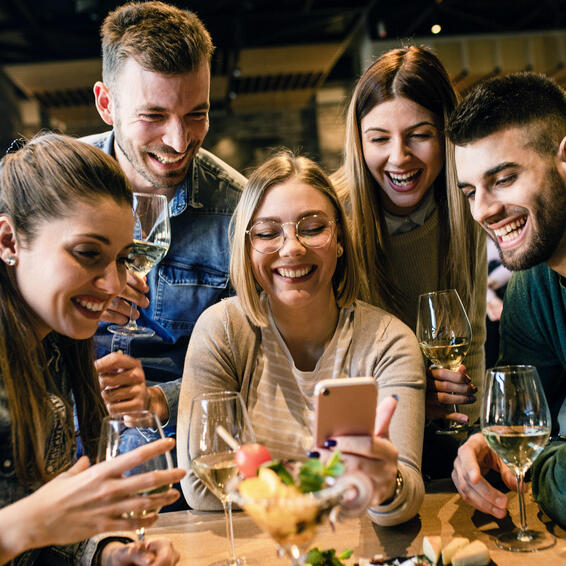 Restaurants are often very lively businesses, with many events throughout the year. There's most likely always a lot going on at your restaurant, and you've probably already asked yourself: "How do I create a Facebook event for my restaurant and make sure my tables fill up?"? If that's the case, we've laid out the main steps to do this.
Read on to find out the best tips for creating events on this platform and attracting clients.
Let's start!

What is a Facebook event, and what can we use them to promote?
This is one of Facebook's free tools, which allows any business to make their activities visible to their entire community of Facebook followers. It allows you to promote the event, invite users/followers, and send out reminders to make sure they attend.
This is perfect for restaurants, because it allows you to promote basically any kind of event. Special offers, brunches, happy hours, tasting evenings, workshops, new menu launches, live music, and of course, special occasions like Valentine's Days, Mother's Day, Christmas, New Year's Even, etc., as well as those events organised by TheFork in which your restaurant participates.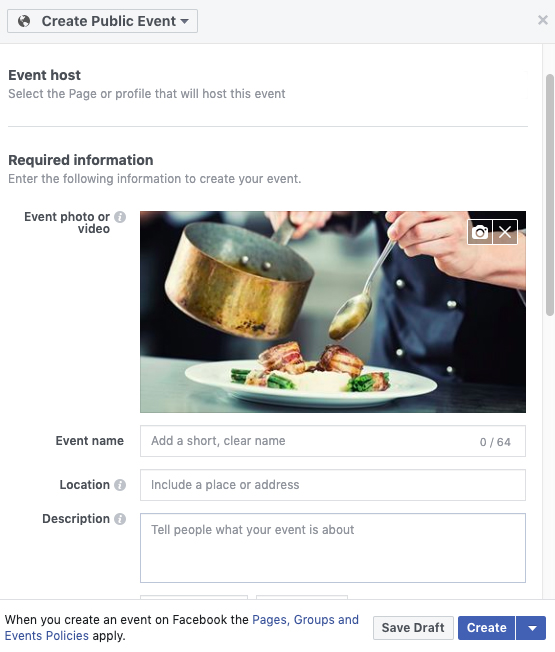 What are the steps for creating a Facebook event for my restaurant?
The first step, of course is to go to the Events tab and click on "Create Event". From there, the tool is fairly intuitive and easy to use. Make sure to:

Choose the "public event" option instead of "private", to make sure it's visible not only to the restaurant's community, but also to any user with whom the event is shared.

Upload a cover image with the right dimensions (1200 x 628 pixels) which clearly represents the experience guests will enjoy at the event. You can use photos from past events, as well as videos. If this is the first time you're holding this event, use pleasant, inviting images.

Use a catchy title that includes a call to action. "Enjoy a special dinner on Valentine's Day" "Treat Mum to a perfect menu" "Celebrate our new menu with us" "Workshop: discover the secrets of good wine" Basically, make it sound very appealing.

Segment the location appropriately. Facebook will ask you to add a location for your event. You can enter the city in which the restaurant is located if it's a widespread event, or specify the neighborhood if it's a happy hour event aimed at the area's business people, or a special brunch for neighbouring families.

Write a high-impact description. Put the event's main offerings in the first 3 lines. "Unwind after work with delicious snacks, the best music, and a 2-for-1 deal on house cocktails from 6PM to 9PM," for example. You can also use emojis make the text more dynamic. Remember to tag the chefs, DJs, or companies you invite, as well as your own restaurant's page to increase your reach.

Promote the event. You can promote your event by sending invitations from the event itself as well as through Messenger, although only do the latter for key clients and guests, not your entire list. You can also post about the event on your restaurant's Facebook page, including posting a countdown, which always gets people excited. You can also invest in advertisements to promote your most important events directly.
It's an ideal way to let your clients/followers to not only sign up for your events at any time, but also to reserve and secure their table directly through Facebook in just a few clicks. Click here to ask your TheFork Account Manager to activate this feature. If you aren't yet a member of our community, now's a good time to join us by clicking here. You'll be glad you did!