Table for one: How can we satisfy single diners?
07.08.2019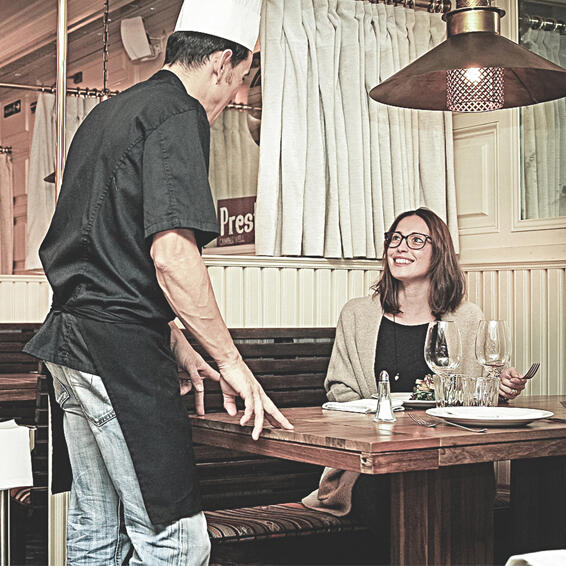 To satisfy single diners, we first need to understand that they are an important part of our potential clients, that their numbers keep increasing, and that they represent a very valuable change in consumer habits when it comes to restaurant tables. With this in mind, any restaurant team can serve them with the same commitment as they do other types of clients.
Clients dining alone are also seeking to enjoy a good experience, have a nice time and enjoy your menu's offerings in peace. Although it's true that restaurants are associated with socialising, whether with family, co-workers, or friends, these days tables must also accommodate single diners, and they can do so without losing profits or productivity.
Does your restaurant often receive single diners? Have you noticed an increase in clients eating alone? Use the following tips to keep them coming back to your tables along with all their acquaintances.

Avoid an uncomfortable welcome. Instead of asking the awkward question, "table for one?" it's better to invite them to choose a table. This way you'll find out if they're eating alone, and you can guide them to the best location. By doing so, you'll avoid giving the wrong impression that the waiter values single diners less or that they'll spend less, since this isn't certain. 

Have spaces that are ideal for them. The second most important thing for single diners is for the restaurant to have tables for one that are comfortably sized, with enough space to eat and move freely, and whose decorations are as nice as those of the other tables. It's also important for these to be located in areas that entice them to sit and linger, not next to the toilet, in uncomfortable corners, or in spots that feel cut off from the rest of the restaurant.

Consider reserving seats at the bar for single diners. Another spot that can be great for these clients is the bar, as long as it's suitable for eating comfortably and is particularly well taken care of. The advantage of eating at the bar is that it allows single diners to share space with the bartender, who can offer detailed information about the food and the way it's prepared, as well as personalised attention, and the chef may even be able to come out and spend a moment with these diners as an exclusive gesture towards them. It's also a very practical solution that doubles the benefits of the bar.

Offer personalized service. If you use TheFork, you can use the client database to record the preferences of these diners (their favourite table, the wine they prefer, if they eat bread or not, any allergies they may have or desserts they love, etc.) and therefore give them the most personalised service possible so that they keep coming back. The advantage of those who eat alone is that you have more opportunity to get to know them, talk to them, and please them!

Offer exclusive gifts Another advantage of single diners is that with just a little investment, you can treat them to little gifts that will make their experience at the restaurant more pleasant. A special cocktail to welcome them, more of their favorite bread, a little digestif at the end of the meal, a taste of the chef's latest dish to let them try something new and ask for their opinion, etc.

Offer special dishes or menus on weekends for your single diners. By doing so, you'll win their hearts and appetites, since Friday and Saturday nights are times of increased social pressure, where families and friends fill up restaurants. You can serve 3 different desserts or products in a single serving, so that they have the chance to taste them all without having another person to share options with.
A single diner may visit your restaurant for many reasons:
Because they're hungry and want to satisfy that need with your menu of the day.
Because they want to treat themselves to a special meal.
Because they have some free time and want to spend that moment with a bite at your table.
Because they want to enjoy a good cocktail or a dessert on a Thursday night, or have a late breakfast at your Sunday brunch, or fuel up for work with a light meal on a Tuesday afternoon...
In other words, there are countless reasons that may draw these clients to your tables, and maybe even with more regularity and freedom than groups or couples who usually need a social occasion to sit down. That means they deserve the effort of giving them your best welcome, to create loyalty and entice them to come back to your restaurant their friends, families, and colleagues.