Key points for retaining customers in your restaurant
08.15.2019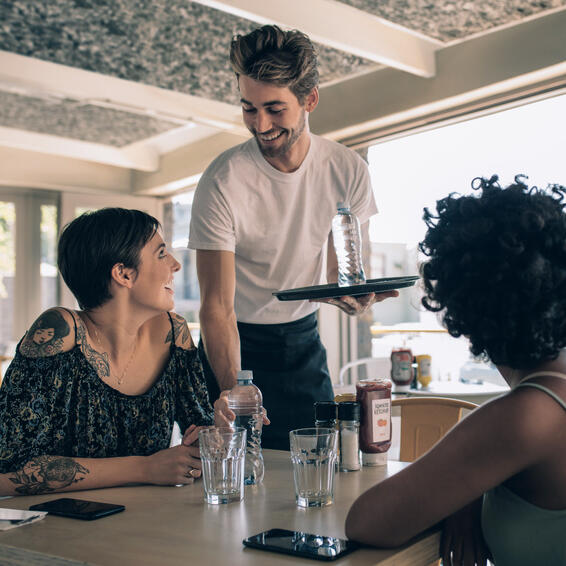 We can think of many options when it comes to strategies for retaining customers! There's even a tendency to want to apply them all at once to make diners return to the restaurant again and again. However, not all of them work the same way in every case, and sometimes, doing less but consistently yields better results. One thing is certain. We must first determine the type of retention that we wish to achieve.
Do we want customers to consistently return at a certain time, day or season? Do we want them to bring other diners with them? Do we wish to shorten the time between one visit and another?
Keep reading to find the strategy or strategies that are best suited to your restaurant's objectives:
Have a personalised menu
In this age of immediacy, diversity and liberty, customers are asking restaurants to satisfy their tastes more than ever. That is why restaurants that have a personalised offering will definitely have a high customer retention rate as well. How do you accomplish this? Generally, it is very important to have a very clear understanding of the profile of the restaurant's potential clientele. Secondly, you must have a very good idea of their preferences for eating out and, third of all, consistently tailor the culinary experience to these tastes.
Click here to have a database that allows you to record all the information you need to retain customers at your restaurant.
Maintain the quality of your favourite dishes
One thing that is very powerful at retaining customers is finding a recipe that they love at a restaurant and that they cannot enjoy in the same way anywhere else.
It surely is something that you have experienced when you have dined at a restaurant where you have tried a dish that is so delicious that you have wanted to return again and again for that reason. Well, the same applies for customers. If your menu has varied dishes that are tailored to your diners' preferences as we have mentioned in the previous point and that furthermore has a touch of originality, it will be hard for customers to resist the urge to come back again and again.
Because of this, it is very important to identify customers' favorite dishes and maintain the recipes so that they are always equally delicious. Having a strict quality control protocol in the kitchen for these products would be a very strategic move to ensure that their quality is consistently the same. And anything can have these attributes for your customers, from a cocktail to an entree, main course or a dessert.
Have human storytelling
One aspect that customers currently value the most and that makes for a good customer retention strategy is for companies to show their most human, vulnerable, and honest side, since it creates a powerful bond when people identify with it, including when they feel that they are an active part of the experience. This is a key aspect for restaurants!
This is generally achieved by providing service that is as polite, intimate, transparent, and natural as possible. It is also accomplished by establishing protocols with waiters where they learn to socialize with customers instead of acting as mere servers.
In addition, it is ideal to build this entire philosophy through the restaurant's social media. Create posts and marketing campaigns where users can identify with the staff and the restaurant's daily dynamics. Story posts on IG are perfect for sharing videos and images of the restaurant's daily happenings, achievements, challenges, novelties, etc. Have a natural and honest narrative that makes customers feel that the restaurant is part of their everyday life.
Give them reasons to return.
In addition to food, another reason that makes customers come back are promotions and discounts. Eating out is a non-essential cost that in many cases upsets customers' budgets. As such, eating these delicious products while paying less will always be a compelling reason for eating out at your restaurant.
You can offer these discounts and promotions through your restaurant's profile on TheFork, since we have very effective loyalty programs. Like the Reward Points system, which allows customers to obtain discounts on their reservations or directly plan occasional discounts on your menus throughout the year, thereby keeping users on the lookout for your promotions. Click here if you still don't have this service.
Also keep in mind that in order to retain customers at your restaurant, it is very important to adapt to the constant changes in consumption habits that we experience today. Consistently checking trends to satisfy diners would have to be a regular marketing activity.