TheFork has partnered with M Victoria to launch ethical dining pop-up experience
06.15.2021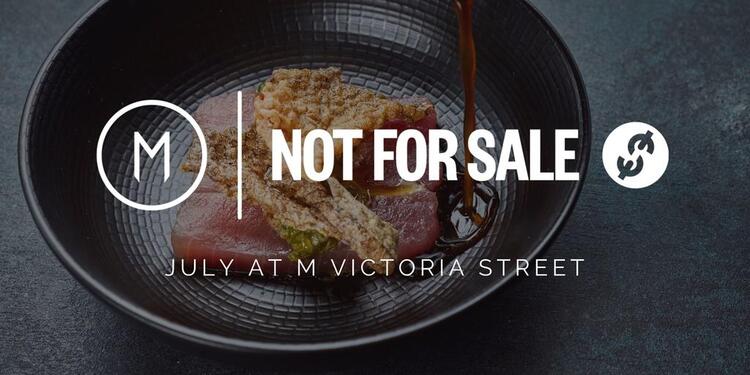 TheFork & M Restaurants announces pop-up restaurant 'M Is Not For Sale'
to raise funds to end sex trafficking and modern-day slavery with charity NOT FOR SALE
 From July 1st – 31st M Victoria Street will host a pop-up dining experience with a difference - 'M Is Not For Sale' - to generate funds and awareness for Not For Sale, a global organisation that works to end human trafficking and exploitation through funding self-sustaining social projects in six continents.
The month-long menu will raise funds and awareness to support Not for Sale an organisation founded by David Batstone which works to create opportunities and return revenue for those who need it most. TheFork is the official booking partner and 600 diners are expected to experience this unique M 'pop up' restaurant.  For the second year running, M has pledged to donate 100% of the profits from sales of the special menu to the charity, offering those dining at the restaurant the chance to give something back.
The special five-course limited-edition menu designed by M Group Executive Chef Michael Reid takes inspiration from Peru, Vietnam, The Netherlands, Uganda and USA - all countries where Not For Sale projects' have had the biggest impact to date by funding both businesses and the building of homes to create a support structure to free children and adults from sex trafficking and the slave trade. There will be a selection of Dutch-inspired snacks to begin with, followed by Peruvian tuna tacos and XO beef tartare from Vietnam. The final savoury course is a duo of lamb with artichokes and wheatgrass using the USA as the point of reference, before ending with a Ugandan coconut ice cream with cucumber, lemon, olive oil and dill. The five-course dinner includes a glass of Champagne on arrival and is priced at £65 per person.
All profits from the pop-up will raise money for the Not for Sale companies including 'Dignita', a restaurant group in Amsterdam that works as a social enterprise model running culinary training programmes to rehabilitate those who have experienced exploitation or trafficking. The survivors are offered counselling and employment at 'Dignata' to grow their confidence and offer new life opportunities.
Professor David Batstone commented that Not For Sale is very selective in choosing its commercial partners. "Not For Sale works with a select tribe of brands that demonstrate a deep commitment in support of our cause to arrest trafficking. We embrace innovation and entrepreneurship as our sharpest tools in that fight, and we look for brand partners who so align."
Last year's 'M is Not For Sale' gala saw the launch by Martin Williams of a new 'crowd-funded' model and the search to find companies or individuals to commit to each donate a fixed amount from £100 Per year for 10 Years, raising £1M in total.
Dine ethically this July. Book a table at the M is Not For Sale Pop-up Dining Experience. Book Here