Offer MICHELIN Specials to enhance your customers' expectations
7 June 2021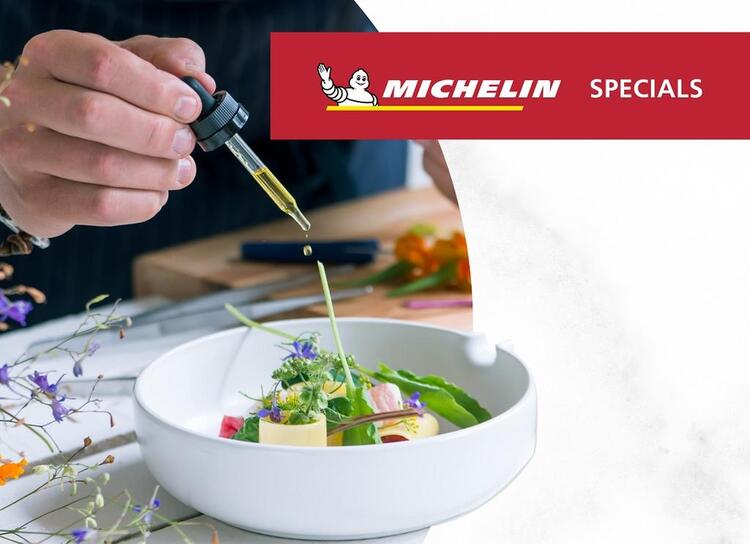 Discover the MICHELIN Specials to offer a unique experience to your diners
TheFork & MICHELIN Guide exclusive partnership began in 2019 to offer diners all around the world a wider choice of high-quality restaurants. Indeed, today more than 3,000 restaurants part of the MICHELIN Guide selection are bookable on TheFork, Tripadvisor and the MICHELIN Guide platforms. 
This year again, TheFork wants to help the industry recover from these particular times we have just lived with the pandemic by offering restaurants opportunities to increase their revenues, their reservations, maximize their visibility and optimize their activity. We have therefore created a unique offer for MICHELIN Restaurants that will boost bookings and visibility after the reopenings: MICHELIN Specials.
Find out what are the MICHELIN Specials as a MICHELIN Restaurant  already working with TheFork and why you should consider offering one. 
And if you're a MICHELIN Restaurants interested in working with TheFork to be bookable online 24/7 towards more than 29 millions users in the world*: Visit our dedicated section.
What are the MICHELIN Specials ? 
TheFork has worked on how to create an exclusive offer for MICHELIN Restaurants that will help to attract and retain customers to these restaurants: MICHELIN Specials are therefore a unique opportunity for starred restaurants to come to the next level with its audience. 
A MICHELIN Special is a MICHELIN experience you can offer to your customers on your TheFork profile. You can either participate by offering a special price menu and/or a special experience.
MICHELIN Specials - Existing menu at a special price: it is a preferred discounted price (10% off minimum) on an existing menu that will be exclusively bookable on the MICHELIN Guide, TheFork and Tripadvisor platforms. The discount won't be displayed to TheFork diners. 
Offering a Special Price Menu to your potential diners is a good way to attract them, make them discover your restaurant and win their loyalty. 
MICHELIN Specials - Added experience to your menu:  this is a MICHELIN experience during the meal you offer your diners with, where it can for instance be: 

A glass of champagne
A complementary amuse bouche or desert
A talk with the Chef
A cooking book signed by the Chef
A Kitchen Tour,  a Cellar Tour, 
A special table with panoramic view.
Such an experience is a true delight for diners eager to discover more about high quality restaurants: it will be an unforgettable experience they will share with everyone for sure and will create a true diners relationship.
 Why should you offer a MICHELIN Special? 
If you offer a MICHELIN Special, your restaurant will get key benefits, here are a few reasons why you should consider it: 
Increase your visibility : You will benefit from a high reach global marketing campaign thanks to MICHELIN Specials dedicated banners on TheFork website and app, push notifications, social media activation and support with our blog. We understand how important your MICHELIN restaurant image is, we will consequently treat it with care. 
Boost bookings, revenue & profit : Get more bookings thanks to the exclusive visibility you will benefit from these offers that will be a must for many potential diners.
Increase your customer base:  Get ready to acquire new clients thanks to the MICHELIN Specials and create a strong customer loyalty.
Improve your online reputation: take advantage of the MICHELIN visibility where it matters as MICHELIN Specials will be available on the MICHELIN Guide website and the app as well.
 How to participate? 
If you would like to offer a MICHELIN Special to your diners and you're a MICHELIN restaurant working with TheFork, please contact your Account Manager who will give you more details on how to set one.
It is important to say that it is a totally Risk Free Investment for your restaurant as cancellations and no-shows won't be charged. 
Now that restaurants are open again, potential diners are looking for a great experience and are eager to discover the best of restaurants: don't hesitate to make this moment unique thanks to MICHELIN Specials. You can contact your account manager and discover how to participate. And if you want to join TheFork today as a MICHELIN Restaurant, learn more about the benefits of working with TheFork here. 
Try the premium version of TheFork Manager, 12 months for free
Thanks to an exclusive partnership, all newly awarded MICHELIN restaurants that sign up with TheFork by September 30th, 2021 get PRO+ software for free for a duration of 1 year.