Maximise your bookings with TheFork Summer!
Published 05.31.2023 - Last update 06.29.2023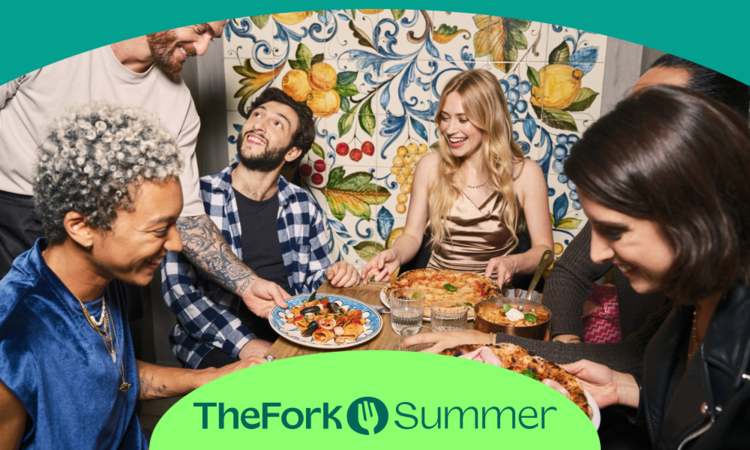 Summer is approaching, and that means one thing above all else: it's time for a trip! Guests from far and wide are packing their suitcases and boarding planes or trains (or getting in their cars) to new destinations… and no holiday is complete without dining out. To make it even more enjoyable, this year we are celebrating summer with TheFork Summer: an opportunity for guests to have a delightful dinner and for restaurants to fill their tables during the summer season.
What is TheFork Summer?
TheFork Summer is THE dining event of the Summer season and starts on the 19th of June. Travellers will be on the lookout for the perfect place to eat while they're on the move, and your restaurant can be one of them. It's the perfect chance to increase your bookings and showcase your restaurant to people from all over the world!
'Tis the summer to boost your bookings
It comes as no surprise that summer is the ideal time to explore new restaurants. That's why TheFork Summer presents a great opportunity to fill more tables in your restaurant. Did you know that 35% of TheFork users are travellers?
Here are some more tasty stats which make TheFork Summer irresistible:
+26% increase in bookings*
Summer is the peak tourist season where we typically see a 26% increase in bookings among our restaurant partners.
40% of bookings on TheFork are made by tourists*
TheFork's community of travellers makes it the perfect restaurant booking partner to bring in additional bookings and revenue from tourists.
+50% more bookings compared to the period before TheFork Summer**
If you're already a partner on TheFork, you can give your bookings a boost by as much as 50% by participating in TheFork Summer.
The secret recipe for summer's booking surge tells its own delicious story:
1. Guests have more evenings available
Whether they manage to secure a few hours off from work, take a sunny Friday off, or go on holiday, there are simply more opportunities to dine out. Whether it's to discuss an upcoming or past trip, enjoy the sun on the terrace, or use holiday funds for a night out when the actual trip is still a while away, more free evenings mean more dining out. With TheFork Summer, guests can indulge in dining out more frequently and explore different restaurants.
2. Guests visit new places
The great British public doesn't just love going abroad, they also love exploring new places in and around the UK. The UK has so much to offer, from historic cities to stunning natural landscapes and a beautiful coastline. Summer is the time for staycations, day trips, weekend getaways, and exploring unfamiliar cities. During these adventures, many people rely on TheFork to find restaurants to dine at. With TheFork Summer, they can discover hidden gems in familiar places and especially in unfamiliar ones.
3. International guests
Did you know that TheFork is used in 11 other countries? In all of these countries, TheFork Summer is well-known and travelling users will be searching on TheFork app when abroad for an amazing dining experience. The functionality of the TheFork app remains the same for users wherever they are in the world.
TheFork also has a partnership with Tripadvisor which creates the perfect environment to boost the visibility and bookings for all participating restaurants. With the increase in tourism expected this summer, we are confident that it's going to be a fantastic season! 💥
Enroll in TheFork Summer
Boost your visibility & multiply your bookings
How can I participate?
If you're like many other restaurants in the UK and want to introduce guests to your delicious menu, beautiful terrace, or friendly service, and be bookable on TheFork during the peak travel season when millions of people will be exploring this summer, we're here to help.
Your account manager will gladly take the time to explain everything step by step. If you're not yet partnered with TheFork, we would be delighted to welcome you to the platform. If you'd like to find out more, click here for a no-obligation consultation where we can start working together.