Discover 2023 Food Trends and take your restaurant to the next level
Published 12.05.2022 - Last update 12.08.2022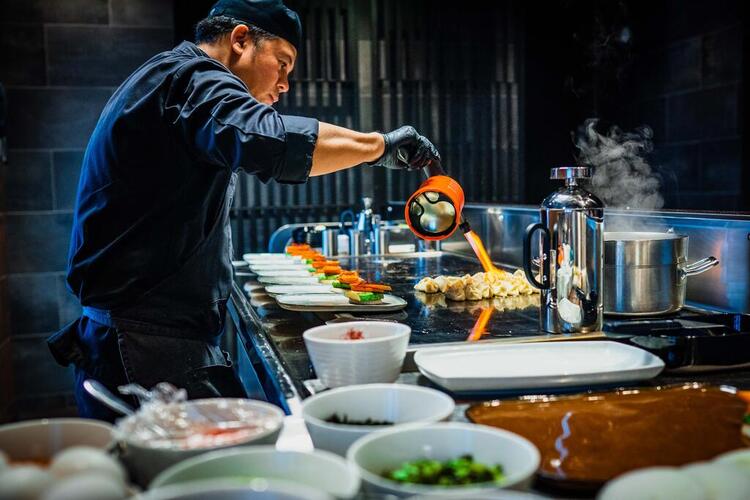 What are consumers expecting from me? What experiences are my diners seeking? These are some questions you might be asking yourself. Each year, consumer expectations vary due to the changes in the economic, social and political context.  
To help you discover and understand what consumers will be expecting from you, TheFork, in partnership with Nelly Rodi, presents the trends to come in the food & restaurant industry for 2023 that are based on 4 major postures: 
1- Looking to reconnect:  the willingness to reintegrate old know-how and belief that customs are worth being saved
Learning from the past becomes a motto for next year's trends. In this world with plenty of challenges, individuals are willing to reconnect with people and patrimony transferred via food. 
💡 Some trends your restaurant can explore
The return of indigenous cuisine & primal-fire cooking: to retake ancient traditions, flavours and techniques into your kitchen and offer your diners a unique experience. Braise in Paris, or Brat in London are taking back primal-fire cooking techniques to offer their diners a different experience based on the most primitive traditions. 
Home table & auberge:  where diners no longer reserve their table but their chair to share and connect with other people. Also, unusual locations or different vibes such a restaurant in a hidden house in town or an auberge as a place to escape will become more and more popular. Nhome, a restaurant in Paris, is one of the examples of restaurants with the philosophy: "Book your chair, not a table". 
Supportive cuisine: involving migrant communities in restaurants and associations will allow to understand and highlight different cultures. This could be a great opportunity for your restaurant to integrate diverse flavours while helping migrant communities with a professional opportunity.  Imad's Syrian Kitchen in London is a perfect example of this trend. 
Grandma's know-how as the main attraction for diners to taste the most traditional cuisine. Gastronomy is one of the main representations of a culture and people are more willing than ever to explore and try all of them.
2- Looking to share:  the stories beyond the food become important for diners that want to know who is behind these creations
💡 Some trends your restaurant can explore
After some years of social distancing, people are more ready than ever to resume human contact, willing to share, to discover and to experiment. Now it's time to share and be opened through decomplexed tables, farm storytelling, sharing and wild interest. 
Chefs with stories: storytelling of the chefs and dishes are more important for diners. Removing high gastronomy complexes and turning it into a fun experience to be lived as a group. 
Restaurants with open spaces: to create an atmosphere for people to meet and talk. We will see a return of the banquet of picnics, with chefs sharing the storytelling with small dishes and new restaurants where people won't be pushed into a seven-course tasting menu, and there will be simple, chef-free dishes to suit the hunger level of the client. 
Caring for the producers: there's an increasingly interest to know who the producers are, meet them and learn about their work and daily life. For example, putting information about the producers in your menus, will help to provide more information to their diners to understand where the food comes from. 
Crave of reality: on social networks, people are looking for sincerity, realism, genuineness and legitimacy. Make sure that you build a solid, honest and real social media strategy to let everyone know about your restaurant. 
Boost your business now
with our PRO version
3- Looking to disrupt: provocation in the plates, in the models and in new hybridization 
Now we have explosive consumers who want to have everything immediately and keep always connected. Everything is moving forward and it is bringing a lot of opportunities with it. 
💡 Some trends your restaurant can explore
TikTok: users explore and decide to try new restaurants through this platform. In fact, 5 in 10 of millennials have ordered food or visited a restaurant after seeing it on TikTok*. Make sure that you become an expert in this platform and that  your restaurant has an appealing and entertaining presence on it. 
Designer table set & artistic mindset: how the dish looks like and the presentation of the table is more important than ever to attract new diners and to provide them with both a delicious and visually appealing dining experience. 
4- Looking to perform:  kitchen has the spotlight as health science, unbelievable experience, precision service.
More aware than ever of the repercussions of climate change, people are looking for effective solutions for their health and for the environment: food is not just food, they want to seek the origin of the ingredients. Also, this is translated in the appearance of the food. Even though a part of consumers are looking for the aesthetics of food, another part is craving for reality. 
💡 Some trends your restaurant can explore
Real aesthetics: in a world where all the filters are available, individuals are claiming more and more real pictures and real life. That's why, it's important to have great pictures but keeping a natural and realistic approach. 
Extreme meals: some people are also seeking out-of-the-box places and meals to eat. Why not provide original and wildly contrasting experiences to diners to make your restaurant stand out from the rest?  
Metabolism focus: people are willing to know what's good or bad for their metabolism. Detailed information on ingredients, allergens and diets on your menu  will improve the experience of your diners in your restaurant. 
New usages: new ways of using ingredients, such as mushrooms, new fermentations, new technologies, and new solutions are found every day to reduce the food industry's environmental impact. 
With the ideas of the 4 Food and lifestyle Trends insights, now you're more than ready to take your restaurant to the next level in 2023.  Be real, explain stories through your food and don't be afraid to innovate and explore new things. Make the most of 2023 Food Trends to acquire new diners and boost your customer satisfaction! 🤩
* Source MGH