Everything that a briefing at your restaurant should include
Published 03.08.2019 - Last update 03.20.2019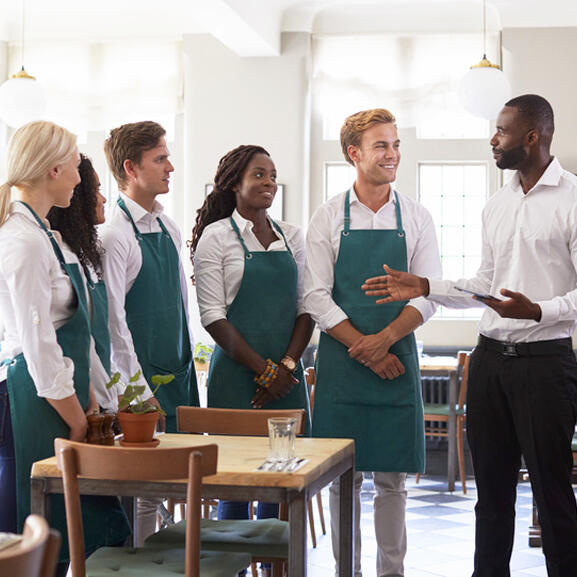 In restaurant management, preparing each dinner service is like preparing a show where everyone has a role, there is a script to follow and an audience to impress. In this respect, there is a crucial step that you must take so that everything turns out great: The briefing or status meeting held by the manager or area manager with the entire team before each work day.
The briefing's topics range from general aspects to more specific details, from the culinary selection to communication problems in the team. Let's say that it is a very crucial moment to ensure that things go well most of the time. It is usually held at the beginning of the week as well as every day before each dinner service.
These topics are crucial for ensuring that this meeting is truly effective:


Occupancy organisation. The key point in any briefing is to inform all the staff about the scheduled reservations and how they would be organised among the tables, the occupancy schedules, the number of diners, new and regular customers that will arrive, reservations with a discount or promotion, etc.
Restaurants that use TheFork, have a Digital floor plan where they more directly visualise how it would be organised, thereby making the briefing easier. Click here If you still do not have this tool for restaurant management.

Assignment of tasks. This is where the manager, supervisor or area manager divides the tasks among the staff. Who will serve the tables, who will be in charge of welcoming the customers, etc.
Although each person has their role, restaurant teams tend to have variations, such as staff that perform double shifts, back-up staff, etc. By assigning tasks in the briefing, each person knows their role during each dinner service, thereby preventing unnecessary improvisations.

VIP or special guests Briefings are also where you inform employees about which clients should receive more personalised or special treatment, such as major groups, influencers or food critics. In doing so, the team can understand the objective of welcoming these guests to the restaurant and the marketing campaigns that will be carried out.
For instance, familiarise yourself with an influencer's preferences in order to impress them, or find out who is the head or leader of the group of that important company whose regular business we wish to obtain.

Customer needs. Another essential topic in our status meetings are the special needs of customers that will arrive at each dinner service.
Determine if there is a celiac customer, if anyone has any sort of allergy, if they do not eat meat, if they cannot consume a certain type of carbohydrate, if there is any couple that is celebrating their wedding anniversary or if there is a family with babies or small children and how they would be served in each case.

Details about the culinary selection. Of course, the food is one of the most important topics in any briefing. In this meeting, all staff must be up to date on the dishes and drinks that are available for each service, The menu of the day, one-off changes for some dishes, etc.
It is also the perfect time to make sure that everyone is intimately familiar with the ingredients and their origins, cooking methods, pairings and, of course, the prices of each product so that you can respond to any questions that customers may have.

Marketing strategies. This is where staff acknowledge the active marketing campaigns, such as up-selling and cross-selling techniques to increase the sales of certain products as well as the average ticket. Other things that are acknowledged are the signature dishes that you wish to sell and key phrases or words that will be used to welcome or say goodbye to clients, for instance.
You can also brush up on digital campaigns, such as inviting customers to post their opinion about their experience on specialised portals like TheFork and TripAdvisor or using a hashtag to tag their posts on social media..

Praise and criticism. The briefing is also the perfect moment to share with the team both positive and negative opinions that have been received from customers, i.e. the complements and complaints. It is a measure that helps to improve staff performance when there are mistakes and to strengthen it when they are doing well.
On the other hand, it serves to inspire other people on the team to imitate the good deeds and prevent possible restaurant management conflicts in the future.

Feedback from staff. Following the previous point, no status meeting should end without hearing the team's feedback. All staff have the right to express themselves and provide their opinion about both operational and personal matters.
This is the time to clear up misunderstandings, report any complaints about the performance of others and express each person's needs. It is also the perfect time to coordinate agendas among everyone, specify days off and days on which someone may need to leave early due to a personal emergency, etc.
In the end, the briefing is to restaurant management like rehearsals are to operas, which is why it is very important to hold them and deal with all the relevant issues to ensure a magnificent performance in every dinner service. Let's hope that is the case as well in your restaurant and that your team can work at ease. Your customers will notice!