3 brunch ideas to fill your restaurant this spring
Published 09.19.2019 - Last update 09.25.2019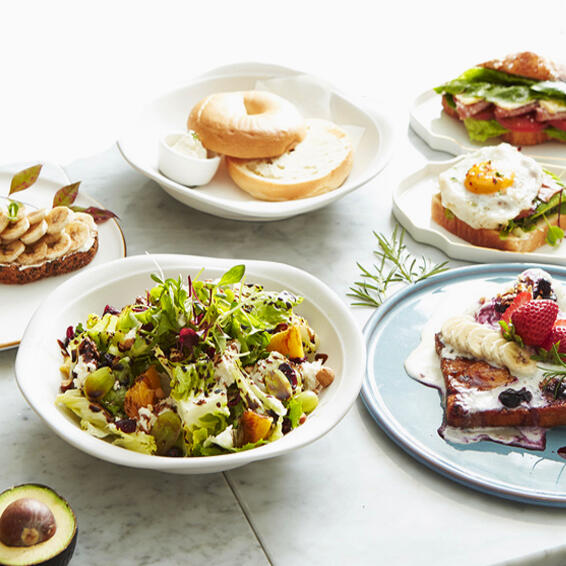 Brunch continues to be a fantastic idea to keep customers happy. This is especially true for foodies, who enjoy this middle-ground between breakfast and lunch, since it lets them eat breakfast later than usual and treat themselves at an excellent establishment that offers them what they like and is trendy.
Spring is the perfect time for this culinary style, since the seasonal products that are available give us a great variety of culinary options, a hallmark of a great brunch.
Does your restaurant offer this format? Here are 3 brunch ideas so you can choose the one that is best tailored to your prospective customers, or you can mix-and-match dishes, filling your restaurant with happy customers this spring.
International brunch


This brunch combines dishes from different regions, palates, and preferences. It is perfect for any restaurant that begins to serve it, allowing them to gauge how it is received by customers. Take note of these dishes:

Assorted salads, seasoned with products such as asparagus and apricots, peas, radishes and a variety of green leaves such as kale and spinach, all of which are typical spring products.

Yogurt with cereals and fruits such as strawberries, grapefruit and rockmelon, which are at their best during this time.

Benedict eggs, a typical and indispensable part of a good brunch, served on spiced bread with garlic, slices of ham and an oregano topping.

Combo dish with fried eggs, bacon or sausages and feta, mushrooms and asparagus.

Churros with chocolate could be an excellent option as part of your desserts menu.

A variety of cavas and wines. Another idea for an international brunch is to serve a good sparkling cava, rosé and white wine, which are lighter for this time of day.

Cocktails. Since it is a late breakfast, customers are also eager to pair these dishes with delicious, classic cocktails like mimosa, mojito or a Bloody Mary.
Healthy brunch

Healthy dishes are another table-filling brunch style that is seeing an increasing number of foodies. In addition, it is perfect for offering seasonal and 0-kilometer products that experiment with rich and nutritional recipes. Here are some indispensable ideas for a healthy brunch:

A variety of breads made of whole wheat, buckwheat, rye, corn and bread with pumpkin, chia, sunflower, sesame, etc. seeds.

Bowls. By combining seasonal ingredients such as açaí, granola, muesli, plantain, coconut, and dried fruits.

Buckwheat pancakes. They are a trendy product, since they are suitable for celiac customers and give pancakes a delicious consistency. They can be served with organic honey, peanut butter and homemade apple or pear jams that are typical of this season.

Seasonal vegetable omelettes can also make a difference. They can include broccoli, spinach, artichokes and asparagus. And if you also serve mushroom omelettes, you will make your customers go "wow!"

Cold-pressed juices are perfect for spring, since it is an excellent time to do a detox before summer. You can make juices out of oranges, carrots, lemons, ginger, pineapple, apple, cucumber, aloe vera, etc.

By the same token, you cannot do without seasonal natural fruit juices. In this case, they would be papaw, or pineapples. Another strategic move would be to offer whole fruits for consumption, such as apples, melons, berries, which would also be very fresh in spring.

Organic and assorted coffees and teas. Health-conscious customers will also like it if a brunch offers them a good chai tea or fair-trade coffee.

Organic wines and craft beers. There will be someone who will want to consume alcohol during their brunch but still do so healthily, which is why having organic and craft versions would be an excellent idea.

Homemade desserts. Serving wheat, raisin cookies or vegan brownies would also be a delicious option.
Brunch Instagram

And if you want your brucnh to be on your customers' Instagram accounts and receive constant advertising, don't forget to include these kinds of dishes, which are shared the most on this social network:

Toast. The current trend is to serve them with toppings such as salmon, avocado, poached eggs, cheese, roasted peppers (also seasonal), cherry tomatoes, mozzarella, dill, oregano, etc.

Bagels. Another type of bread that fills Instagram feeds are bagels with sesame seeds, salmon, ricotta cheese, and roasted tomatoes, to name a few.

Burritos or wraps. A wheat tortilla that is rolled and filled with ingredients similar to those of toast and bagels. They are also shared on Instagram, since they are an increasingly popular dish.

Arepas. A typical Caribbean dish made of cornflour and which are also filled with a variety of products. They have a neutral taste, allowing them to have a salty or sweet flavors. The most common arepas are ones with cheese, shredded beef or chicken.
Cronuts. These are the kings of Instagram, and they consist of a dough that combines the puff pastry of a croissant with the softness of a donut. And the more eye-catching and sweet its topping, the better for a cell phone camera.
Smoothies. These thick and delicious shakes are a favourite for Instagrammers. At a spring brunch, we can make them from seasonal berries, melons and papaya.
Mocktails. And for millennials and generation Z, it would be ideal to have delicious, non-alcoholic cocktails for this time of the day. If they have a special appearance, they will go straight to Instagram, even before being consumed.
With all these delicacies, you will have many ideas for brunch at your restaurant this  spring, one that will make your customers come back for more. And to make sure that is the case, remember to advertise it on Facebook events, in your Instagram posts and on your profile on TheFork, where thousands of diners are looking for a good brunch to enjoy.
Still not on TheFork? Click here.