Series: Crafting the Ultimate Restaurant Page on TheFork
Published 08.25.2023 - Last update 10.26.2023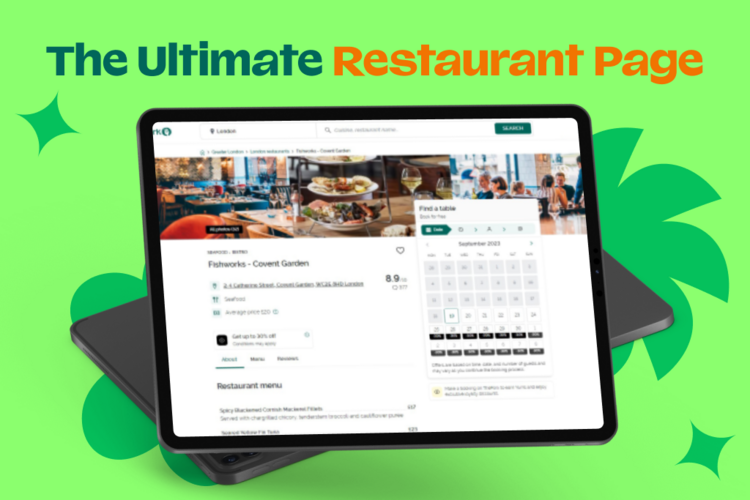 We're unveiling the ingredients you need to curate the perfect restaurant page - a recipe to supercharge your restaurant's online presence on TheFork.  You'll learn exactly how improving your restaurant page results in more bookings, and you'll discover tools you might not even know you had on TheFork Manager.
The essential elements of an impactful restaurant page
A complete and appealing restaurant page is crucial in the digital age. It attracts potential diners, boosts conversions, and sets the restaurant apart from competitors. Through an enticing menu, captivating photos, and stellar reviews, it creates an emotional connection with customers. The restaurant page optimization on TheFork attracts more visitors and increases page visits, ultimately leading to a thriving restaurant.
Here are 5 things you need to consider to ensure your page performs at its best. Have a go, explore the pages and find all the tools you need under your belt to craft a restaurant page people will come back for!
Try TheFork for free
Are you a restaurant who wants to find out more about restaurant pages on TheFork? Let's get in touch.
1. Captivating Photos
Prepare to dazzle! Set the stage with eye-catching photographs that serve up a feast for the eyes and ignite the curiosity of potential diners. Think snapshots of your best-selling dishes, the ambience of your restaurant, the artful plating, and more. Find out how to adjust the restaurant photos on your page here.
2. Irresistible Menu
Spice up your offerings with vivid descriptions and zestful language to bring your dishes to life. The more tempting and complete your menu, the more reservations you'll secure. TheFork Manager tops that with a few nifty ways to help your offerings stand out even more. Here is our article with all the top tips on your menu.
3. Comprehensive Restaurant Information
Make it a breeze for hungry diners to find all the essential details they need to know. It's vital to have updated contact information, your location, and opening hours. Don't forget to add the right tags to reflect your offering and experience making it easy for diners to discover your restaurant. What information you need, and how to update it - find out here.
4. Your Agenda
Keeping on top of your online availability in your bookable agenda and it's services is always important, but doesn't need to be difficult. Especially if you set up those services JUST right using our hands-on pointers. Find out all there is to know about your services here.
5. Stellar Reviews
Positive reviews will attract new diners, so embrace the warm vibes of praise and gratitude. And, if you're faced with constructive feedback, make sure to show your commitment to improving and providing an even more outstanding experience! We will tell you all about it here.
Ready… set…
Start exploring yourself in TheFork Manager. No access to your own restaurant page yet? Not to worry - we're waiting for you. Leave your details here and we'll help you get started.