COVID-19 - Tips and tools to support your restaurant
2021 is a challenging year for the restaurant industry and TheFork is more than ever committed to stand by its restaurant partners and provide them useful advice and improved software features to help them cope with Covid-19 business & human challenges.
This page is dedicated to restaurants looking for tips to cope with closure, keep on generating revenue, maintain a connection with their customers and boost their visibility to get ready for full reopening.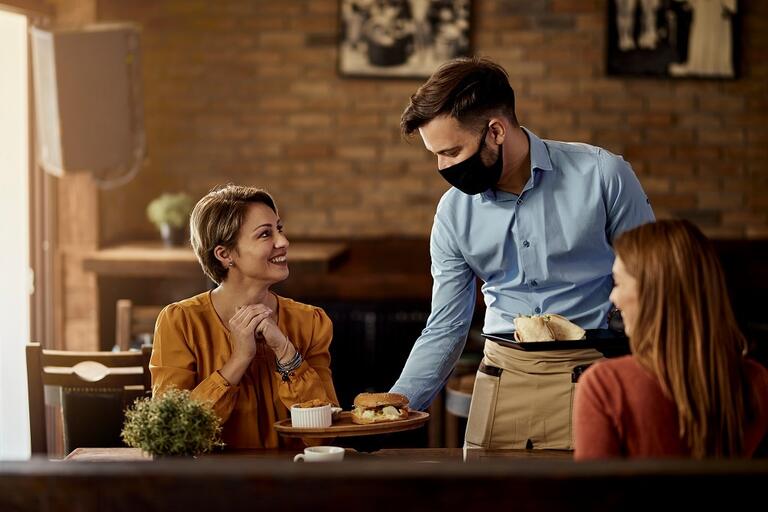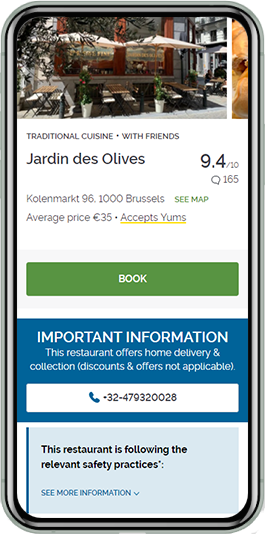 Rely on TheFork Features to reassure your clients and manage your business
We know that your restaurant will need time to recover from Covid-19 and that you are doing your best to still generate revenue while reducing costs.  You also take care of your staff and keep on connecting with your guests. So many challenges! In order to support you, TheFork has listed for you some tips:
Contact us to display directly on your TheFork restaurant page the mention that you offer delivery and/or takeaway options for your customers.
Use TheFork Covid Badge to display on your restaurant page all the safety measures you put in place to make your clients feel safe
When reopened, activate your seating preference feature on TheFork manager so that guests can choose their seating to make them feel comfortable.
Make the most of your digital Floorplan to define the best tables set up and save you and your staff some time.
You are not working with TheFork yet?
To support our new customers and the ones using FREE plan, TheFork offers free access to premium version of TheFork Manager during 3 months*! Make the most of it to prepare your restaurant reopening.
*Offer applies to new customers, customers using FREE plan and clients can benefit from it until March 31st 2022.  Offer applies to TheFork Manager products only TheFork Manager Pro and TheFork Manager Pro+.
What you'll get with the Premium version of the software
Track your reservations
Record, modify and cancel all your reservations from one central system, whether they were made online, by phone or even walk-ins. This includes bookings from different sources as such Tripadvisor, TheFork, Google and Facebook.
Control your customer flow
Have full control over your bookings depending on your needs. You can set the number of covers available; close bookings when you're fully booked; most importantly use the floor plan tool to ensure the correct social distance between diners.
Increase your online visibility
Boost your presence to millions of unique visitors and get more diners into your venue! Your restaurant has a customised page that you can manage and update, with your menu, pictures, prices, opening hours and reviews.
Communicate with your customers
Stay in touch with your customers and keep them updated with news from your restaurant by building your own customer database. Design and send emails and text messages directly via the software.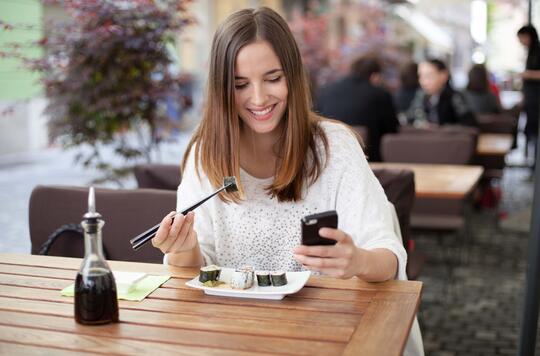 Make some noise
A recent study conducted by TheFork showed that diners are ready to get back into an in-restaurant dining experience once restrictions have been lifted. This is a great opportunity to make it easy for diners to discover and book at your restaurant and provide them with the service that you are known to give!
Update your Social Media profiles and let your fans know that you offer delivery & takeaway options if you do
Update your restaurant information such as operating hours, menus, photos and take the time to answer all your reviews ( more on

Update your profile on TheFork

Re-engage your diners by sending an email or SMS campaign to let them know you are now taking reservations or offering Takeaway and Delivery options. Don't miss business opportunity.
Install your booking widget on Facebook and Instagram to get more bookings once your restaurant reopens.
Provide a safe dining environment
Create a safe and welcoming experience for both your staff and guests. Ensure your staff are informed of the safety measures you've put in place so that diners are comfortable to dine-in again. Continue to communicate the safety measures in place in your restaurant to ensure a safe dining environment, thanks to the COVID-19 safety badge on your restaurant page, you are likely to benefit from a 4% booking increase.
Key points to consider:
Provide supplies such as masks, gloves and sanitiser to keep staff and guests safe.
Reduce physical contact as much as possible
Be mindful of guest preferences, without knowing the situation everyone is in, be sure to remain empathetic and focus on providing a dining experience to remember.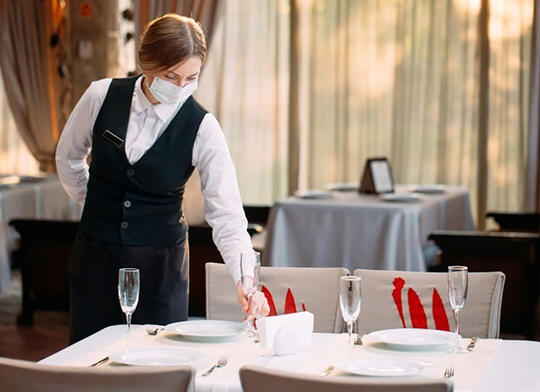 Your questions answered
Need more support? Please check our full FAQ, contact us or log in your TheFork Manager account and access our real-time chat.
How to stop online bookings?
Remember that TheFork Manager Neo is an intelligent reservation book that will help you boost your business according to your needs. Your availability will always be automatically updated taking into account your opening times, your number of seats and your average meal duration.
However, due to sanitary situation or any other reason, you could close online bookings at any time.
How to stop online bookings:
Click on the book icon
Change the date if needed by clicking on the < backwards or forward > icons
Click on service you want to manage
Click on the "Service" button on the upper right corner
Click on "Stop online reservations"
A notice will be displayed on the reservation list stating that online bookings are closed for that service:
- Click on "Stop online" to confirm the action
- Otherwise click on "Cancel" to cancel the action
Once the online reservations of the service have been closed, you will permanently see a message in orange to reactivate the online reservations. Simply click on "Allow online reservations" to reopen your internet availability
As soon as you know the specific days that your restaurant will be closed during the year, it is very important that you update these in TheFork Manager Neo.
This will prevent reservations being made when you can't accommodate them: you'll also avoid having to contact customers to offer alternative dining dates, or cancel bookings.

How to close a service:
Click on the book icon
Change the date by clicking on the < backwards or forward > icons, if needed
Select the service you want to close by clicking on it.
Click on the "Service" button in the upper right corner.
Click on "Close service"
A Closed-service message will display on that service reservation list, as well as an Open Service button, in case you want to revert it.

If you forgot to close in advance and you already have reservations, a warning message and a list of impacted bookings will pop up.
If you have already offered a different option to the customer and you want to update the booking date, click on "Edit", on the right side of the booking.
If you have not been able to accommodate a different dining date for the customer, click on "Cancel", on the right side of the reservation,
You can also bulk cancel all reservations for that date and service:
Click on the box in the header of the affected reservation list, to the left of the date.
Click on the "Cancel bookings" button next to the number of bookings selected at the top.
How to change opening hours?
You can check your opening days and service hours in the Meal Description section in the Settings area. Once there, follow the steps below: 
Click on Advanced Meal Management in the top right corner
Click on Restaurant Data below the service you want to edit
Unclick below the days of the week to indicate the days you close
Update first or last booking time on the left to apply changes to all the days of the week
Update first or last booking time below every day of the week if you have different schedules
Confirm at the bottom of the page
If you find this process slightly complicated, don't panic, contact us by chat and we'll be happy to help!
I need help. How to contact TheFork?
If you have further doubts, you can contact us by chat.
Click on the bubble "Chat with an agent" that you will find in the bottom right corner
Add your contact information and click on "Start Chatting"
Write your question and click "Enter".
We will reply to you as soon as possible to help you through
Once the conversation is finished, close the chat window.
Optionally you will have the option to evaluate the service received. We encourage you to leave your opinion to help us improve our service.
You can also contact us here or call us.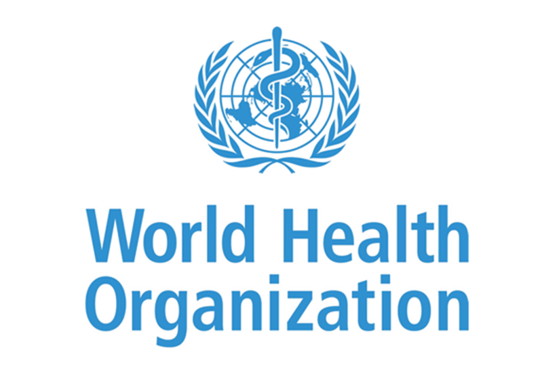 WHO recommendations
Find here all WHO recommendations, advices, guidance, questions and answers and situation reports on COVID-19 pandemic in your region.
Get ready for your restaurant reopening
Try out premium version of TheFork Manager, software fees are waived for the first 3 months!* You can benefit from key covid related features to accelerate your business recovery.
*Offer applies to new customers and customers using FREE plan and clients can benefit from it until March 31st 2022.