9 ideas to make your restaurant's decoration shine on Instagram
02.03.2020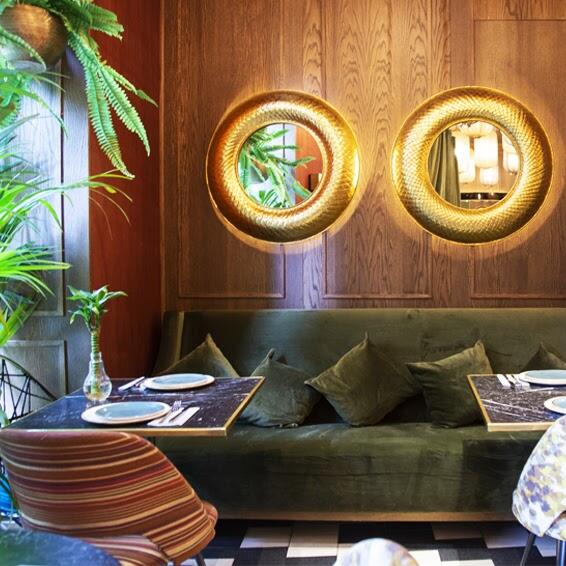 A restaurant's decoration is one of the key items when it comes to attracting positive and organic marketing on Instagram, today's primary social network for acquiring and retaining customers in the restaurant industry. Because of this, this article will summarize aspects to take into account when it comes to having Instagrammable areas in the restaurant.
Is your restaurant irresistible to your customers?
Let's say that the objective is to create the perfect setting and give diners enough reason to take out their phones, take a picture or video of the restaurant, and share it on their Instagram account with positive comments.
If you and your team put effort into the restaurant's decoration, such as additional quality and beauty, the natural result in most cases will be that customers will appreciate it.
So draw some inspiration from these ideas and go get a lot of likes!
Take advantage of natural lighting
Instagram loves natural lighting, which is why customers feel more tempted to take pictures in areas with bright lighting that comes from the outside sun. Take advantage of all areas with natural lighting and pay special attention to the decoration of these areas, which will also look bigger and perfect for your diners' cell phone cameras and for their Instagram profiles.
Have beautiful and attractive corners
One way to take advantage of natural lighting is by placing corners or mini-rooms that are perfect for taking pictures or videos right in these areas. For instance, placing modern one or two-seat furniture with strong and eye-catching colors alongside vintage tables on a tile floor can prove to be very attractive. Or you can, e.g., place bookshelves with old books beside the tables.
It is also a good idea to combine normal, low tables with high, bar-type tables along with large and striking lamps with smaller and functional ones, or classic paintings with abstract ones. Eclectic things greatly help to create different spaces within the same area and give different reasons to take pictures or videos.
Decorate with interesting objects
While we're on the subject of combining elements, we suggest that you look through vintage or collectors' stores for objects that can stimulate your customers' imagination and, of course, make them share it on Instagram. You can place chairs from different eras between your tables, as well as rare and striking lamps. Or imagine placing an interesting and attractive sculpture at the center of your restaurant, such as a huge rhonocerious or a fairy. Your customers will definitely remember it, in addition to taking pictures of it.
If your potential clientele is between 40 and 55 years of age, you can include old video tapes, Polaroid cameras, Rubik's cubes and other objects from the nostalgic 80s and 90s coupled with other, more modern objects. Or, for instance, you can put open trunks with travel items inside, old music boxes, phonographs, etc.
Have your own graffiti or paintings
To attract more millennial and generation Z customers, you can hire an artist to create a graffiti or illustration-style mural at your restaurant of a concept that is also related to the restaurant's brand image.
Having something like this can undoubtedly be very attractive for these young customers, because in addition to feeling identified with this style, it also makes the perfect background for making Instagram posts. In fact, you can promote this part of the restaurant's decoration in your own Instagram account by inviting your fans to check out the restaurant and graffiti. It's great!
Decorate with inspirational phrases
Instagram loves motivational phrases, since they make up a very important part of the positive and inspiring way in which customers use this social network. Make your decoration up to the task by placing phrases that associate your business's values with happy , intelligent, or fun ideas so that they can be uploaded to Instagram.
You can include them in neon letters in the middle of a large wall in your restaurant or labeled on decorative paper, on chalkboards, on napkins, etc. The more interesting the phrases are, the more they will draw customers' attention.
Place fresh flowers and plants
Flowers and plants are other elements that are "very Instagram". Let's say that anything natural currently enjoys prominence. So place vases of different sizes, styles and colors with fresh flowers every day in different parts of the restaurant, and your customers will feel attracted by them.
When it comes to the plants, it is crucial to include them in your entire decoration. Choose good cactus plants for your darker areas and others for the interior and exterior so that you can have variety in every area. You can even hang plants on the roof that provide a sensation of freshness and naturalness and to give customers stimuli in every part of the restaurant.
Make spectacular presentations of the dishes
Imagine that you visit a restaurant and are served a very colorful beet soup that is decorated with parsley branches and served in a sun-yellow bowl, creating a magnificent combination of colours. You will definitely want to take a picture of it.
Now imagine that you are served roasted chicken filled with chestnuts on a dish, with the roasted meat having a cinnamon color and the chicken sliced down the middle, exposing its juices, herbs and chestnuts, coupled with a very fresh salad with a lot of green and yellow. Bam! A direct impact to your eyes and senses.
It's like placing a well-made painting in front of each recipe so that they are constantly motivated it to share it on their social media.
You can invest in training so that your kitchen staff can attend workshops and food decoration courses, particularly for Instagram. It would be a great differentiating factor.
Having a restaurant hashtag
For your marketing strategy, define a hashtag that includes the word "restaurant" and the name of your business, such as: #fivesensesrestaurant and publish it on your decoration so that customers can label their posts with it. This will help your restaurant be found more easily on this social network, and help customers see everything related to your restaurant on Instagram with just a single click.
Having a visible hashtag is also a direct invitation to using it. If customers see the hashtag on napkins, coasters, on a decorative poster, etc., they will be tempted to use it and make posts about your restaurant.
Don't forget the restrooms
Restrooms are also an area that can be uploaded to your customers' Instagram accounts. There are restaurants that even have a dressing room-like area with mirrors, lights and flowers in the entrance to their restrooms, which are preferred by the customers who visit it.
Using special tiles, design faucets, eye-catching plants and paintings, you can give a lot of value to this part of the restaurant and make customers notice it. Can you imagine that there are customers who, among other things, want to visit your restaurant to take a selfie in your beautiful restrooms? Is it weird? No. It's Instagram!
Tip: Following food influencers can also be very useful for being up to date on decoration and plate presentation trends and on what users like the most and what is shared the most. By doing so, you can keep your restaurant decoration strategy up to date and consistently increase engagement on Instagram.
And since we're on the topic of Instagram, remember to include a button for direct reservations on your restaurant's Instagram profile so that users who enter can learn about your offerings and can reserve a table in a few clicks. Contact your advisor at TheFork, By clicking here.
Still not part of our community? It's a great time to join! Click here and begin to enjoy a reservation button on your Instagram account, among many other functions that will help you spectacularly manage your restaurant.