How to start a restaurant
Published 08.08.2022 - Last update 08.10.2022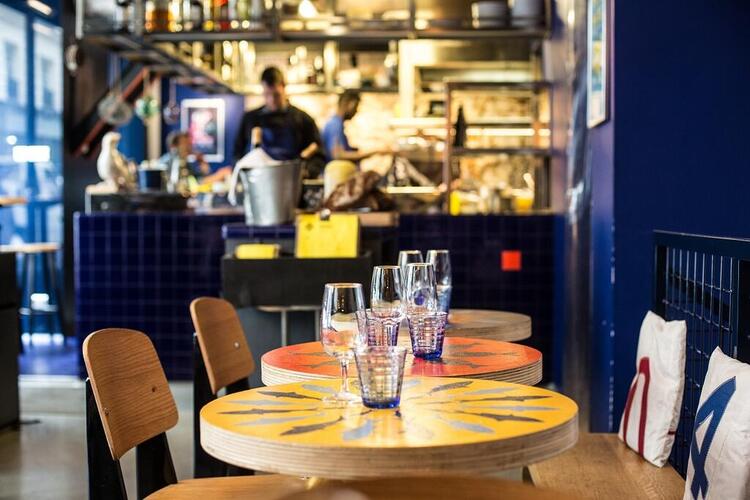 As most seasoned restaurant owners will tell you, opening a restaurant takes a great deal of personal investment, preparation, attention to detail and some serious multi-tasking. In addition to coming up with a great restaurant concept, appealing menu and distinct vibe, there are a whole host of steps involved in opening a restaurant - from finding the right location for your business to budgeting, hiring staff and much more.
Feeling under pressure and overwhelmed? Wondering if you are up to the task? You're not alone. Starting your own business and especially a restaurant is a stressful but highly rewarding undertaking. To help make this process more manageable, our 'How to open a restaurant to-do list' breaks down some of the major steps involved.
How to create a restaurant to-do list
Define your restaurant concept 
Your restaurant concept defines who you are as a restaurant: it is your distinct personality and brand. Your concept  encompasses the food and drink you intend to serve, the vibe, atmosphere and visual impact you want customers to feel when they walk in the door, the style of service (fine dining, casual, family friendly, family style) and your target customers.
Once you have defined your concept and vision clearly, practice pitching it to people you trust such as close friends or family. Their potential questions will force you to clarify your ideas and they may even have useful suggestions or insights on how to improve your concept. Getting people to believe in and understand your restaurant concept is also good practice in case you need to obtain financing. 
Create a sample menu
Creating a sample menu will help you define your restaurant concept more clearly. What type of food do you want to serve? Traditional regional specialties, world food, family style dining or haute cuisine? The possibilities are endless but you need to define what is specific to your restaurant and what will make your menu stand out from other restaurants in your area. When creating a sample menu you should always keep in mind your target customers: families with children, the business lunch crowd, students, large groups, meat lovers and/or vegetarians 📃 Today many people are looking to eat more sustainably so you may want to consider creating a more sustainable menu featuring seasonal, locally grown vegetables or raised meat.
Research restaurant financing options
Many people dream about opening a restaurant but have no idea how to finance one. Unless you plan to use your own savings, you will probably need to borrow money. Research potential financing sources in your community: family and friends who may be interested in investing in your restaurant, government financed small business loans, bank loans, or private investors are some of the ways that people finance restaurants. Get comfortable talking about your vision for your restaurant and come up with a business plan.
Boost your business now
with our PRO version
Estimate proper restaurant staffing for your restaurant's needs
Every restaurant has Front of House (FOH) and Back of House (BOH) staff. It is important to think carefully about how many people and what types of positions are needed to run your restaurant efficiently. If you are creating a fine dining establishment you will probably need more staff than a casual or family style restaurant. Whatever type of restaurant you operate, one of the most important people on your team will be the chef 👩‍🍳 It is very important that you have good rapport with your chef and that you share the same vision of the food you will be serving.
Depending on the size and style of your restaurant he or she may be assisted by a sous-chef, line chef, and prep chef. FOH you will likely need a manager who sometimes also operates as the host, potentially a bartender and sommelier along with servers and bussers (although again in casual restaurants this job is often also handled by the servers). And you may also need a cashier. Keep in mind that labour costs are one of the highest expenses for operating a restaurant. 
Hire a winning restaurant team
A reliable skilled team whose members work well together is vital to the success and sustainability of any business but this is especially true in a restaurant. Finding the right people to open your restaurant may be challenging so don't leave this to the last minute. How to find skilled restaurant staff? You can advertise in specialized food industry magazines, take out classified ads, create a pre-opening social media page and above all use personal contacts. Friends and family may know qualified people who would be interested in working for you so spread the word. While proven restaurant experience and hard skills are important, we also recommend looking for people with good soft skills such as the ability to communicate, work well with others, and strong leadership skills in the case of the manager and chef 🍳
Train  employees before opening
Front of House staff work directly with customers. They are at once the foundation, face and personality of your restaurant and they have the power to make or break your reputation right from day one. That is why all employees and especially those who work directly with customers need to understand your expectations before the grand opening. Make sure to organize training sessions for all staff. If you don't have time to train them yourself, find a specialized training organization. 
We recommend role-playing and communication based training to teach employees about how to engage positively with customers 😄 Take the time to produce written employee guidelines on how to make customers feel truly valued and welcome all the time. Anyone with any leadership role such as the manager or chef should ideally receive training on how to lead a team effectively. Training employees helps reduce employee turnover and hence labour costs while helping to create a positive work environment.
Find the right location for your restaurant
The right location is also a make or break factor for many restaurants. Some factors to keep in mind are accessibility and foot traffic in the area, visibility of the property from the street, the type of neighbourhood (ideally with a mix of residential real estate, retail businesses and strong traffic drivers such as hospitals, tourist sites, theatres), floor capacity and zoning laws, the demographics of the neighbourhood relative to your concept, and  the concentration of restaurants in the area. And of course you should define what you can afford to reasonably pay for rent: according to some restaurant industry experts, rent should account for no more than 10% of your sales.
It's possible that before reading our tips on how to get started building a restaurant you felt that it was way more difficult than it really is. It can feel challenging to start a project like this, but we encourage you to follow your dream and start with these few tips! 💪