Attract more customers this Valentine's Day
01.27.2021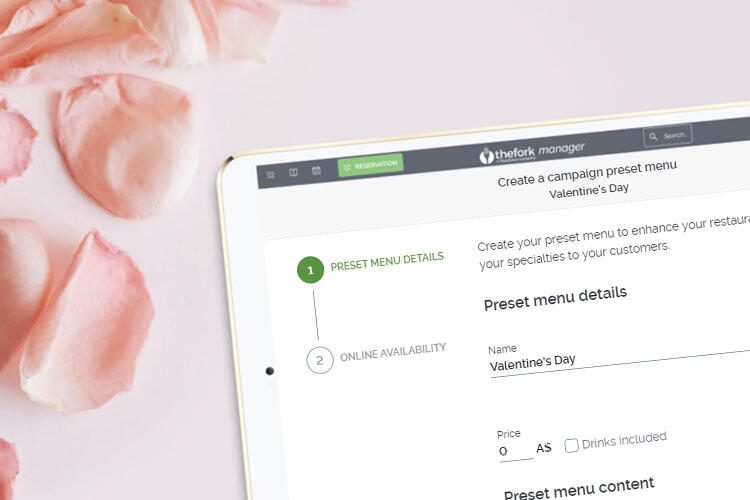 Tips on how to attract diners to your restaurant this Valentine's Day! 
Your restaurant is open? Take advantage of this opportunity to attract more diners! 
People are eager to dine at restaurants and celebrate with their loved ones, that's why Valentine's Day in 2021 is more than ever the perfect occasion to attract diners to your restaurant. Here's a checklist to to help you boost your restaurant's business during this special dining occasion. 
Update your availability and your restaurant capacity on TheFork Manager 
Upload your Special Menu on your restaurant page thanks to the PDF feature
Consider a nice promotion to attract potential dinners

Your restaurant is closed but might reopen for Valentines' Day? 
Make sure you are ready to reopen your restaurant by following our tips HERE and get inspired by the above checklist. Also check out our blog post dedicated to diversifying your offer to generate more revenue and start updating your availability and uploading your Valentine's Day menu on TheFork Manager to let your clients make bookings right away. Go to your system HERE to get started!
Your restaurant is closed to the public but your kitchen is up and running? 
Have a brainstorm with your chef to propose a Valentine's Day special menu available for takeaway and/or delivery, it's definitely a good way to attract diners who are dreaming about a great romantic dinner made by a chef which they can enjoy in the comfort of their home. 
It might also be the occasion to create love baskets with ingredients made to satisfy the palate of the lovers (i.e. desserts, chocolate, champagne, easy to cook recipes). 
 
Already working with TheFork? Just reach out to your account manager who will be able to assist you. 
Not yet TheFork restaurant partner? Don't worry! You will be able to join our restaurant community in just a few steps. You can start by completing this form and our experts will contact you to activate all options in your account.